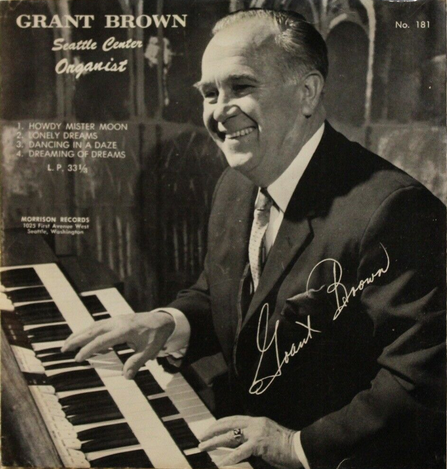 MISC NOTES:
Two variations of black and white artist photo picture sleeve. Variation #2 features picture as shown here, but unsigned and  with white "framing."
LOCATION: Seattle, WA
RECORDING  PERSONNEL: Grant Brown [organ]
RECORDING STUDIO: TIMBRE Recordings
RECORDING ENGINEER:
FORMAT: disc
SIZE: 7"
SPEED: 33 1/3 rpm
DISC NOTES:
4 Song "Mini LP"
Translucent gold vinyl
A-SIDE MATRIX: No. 181 A
A-SIDE STAMPER CODE: 181 - A SIDE 1 (etched)
A-SIDE COMPOSER: Louise and Grant Brown
A-SIDE PUBLISHER: Morrison Music Co. (BMI)
B-SIDE MATRIX: No. 181 B
B-SIDE STAMPER CODE: 181 - B SIDE 2 (etched)
B-SIDE COMPOSER: Louise and Grant Brown
B-SIDE PUBLISHER: Morrison Music Co. (BMI)