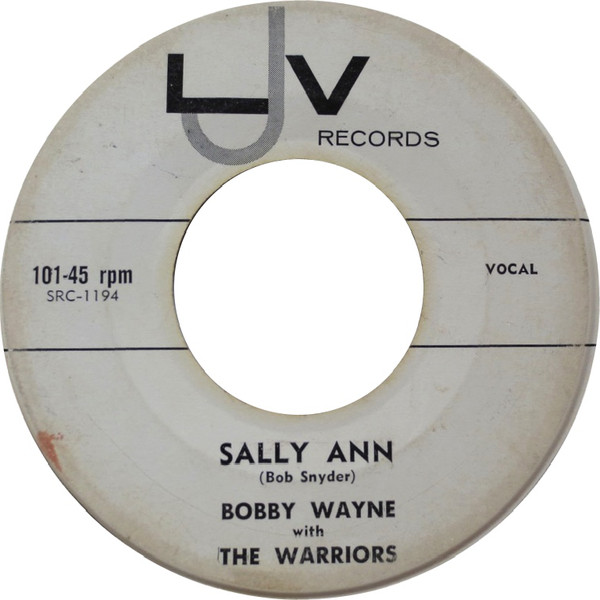 MISC NOTES: Wayne has stubbornly insisted that this was originally issued in 1955 in a 78 rpm disc format on the SRC (no #) label. None are yet known to have surfaced,
Pressed as a 7" 45 rpm disc in 1958.
In the 1990s, the LJV 7" was reproduced for the collectors market. (See NWMA Listing)
LOCATION: Spokane, WA
RECORDING PERSONNEL: Bobby Wayne (lead guitar, vocals); Harold Horn (rhythm guitar); Warren Waters (drums).
RECORDING STUDIO: Sound Recording Company
RECORDING ENGINEER: Carter
FORMAT: disc
SIZE: 7"
SPEED: 45 rpm
DISC NOTES:
[HEAR IT] "Sally....."
https://www.youtube.com/watch?v=Qq1M-gV5RHA
"Sally Ann" Album Reissues:
1.) 2002. Side one, track #7 on compilation lp Chicken Session (Norton Records NW 911)
2.) 1996 Track #4 on Bobby Wayne cd album Go Rockabilly (1955 - 1956 Rockabilly Classics) Wildfire Records WF - 01.
"War Paint" Album Reissues:
1.) 1996 Track #10 on Bobby Wayne cd album Go Rockabilly (1955 - 1956 Rockabilly Classics) Wildfire Records WF - 01
2.) 2004 Track #10 on compilation cd album  Hot Rod Motorcycles Vol. 1. Wildfire Records (No #) UPC650687936729
A-SIDE MATRIX: SRC-1194
A-SIDE STAMPER CODE: SRC
A-SIDE COMPOSER: Bob Snyder
A-SIDE PUBLISHER:
B-SIDE MATRIX: SRC-1195
B-SIDE STAMPER CODE: SRC
B-SIDE COMPOSER: Bob Snyder
B-SIDE PUBLISHER: