"Super Highway" / "Only A Tear"
SERIAL#: 4-45312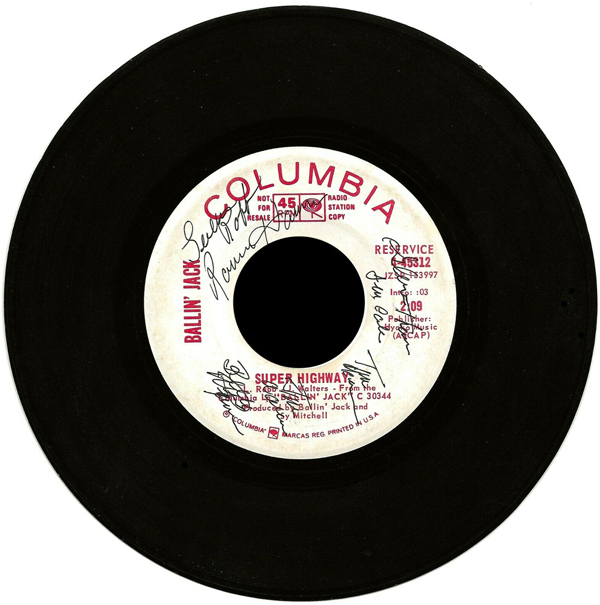 MISC NOTES:
Both selections rom the Columbia LP Ballin' Jack (C 30344)
LOCATION:
RECORDING PERSONNEL:
RECORDING STUDIO:
RECORDING ENGINEER:
FORMAT: disc
SIZE: 7"
SPEED: 45 rpm
DISC NOTES:
Known Label Designs:
1.) A - A (MONO/SEREO) promo disc.
MONO side: White label background. Red logo, numerals and lettering. ) STEREO side: Teal blue label background. Yellow logo COLUMBIA ,STEREO and label info arced around lower label edge. . All other numerals and lettering black.
2.) A - B retail disc. Red label background. Black logo, numerals and lettering.
[HEAR IT HEAR] "Super......"
https://www.youtube.com/watch?v=tvXyPsSechg
[HEAR IT HERE] "Only....."
https://www.youtube.com/watch?v=p7sByTR83H0
A-SIDE MATRIX:
1.) JZSP 153997
2.) ZSS153998
A-SIDE STAMPER CODE:
1.) ZSP - 153997 - 1C (etched wax)
2.) ZSS 153998 - 1B (etched wax)
A-SIDE COMPOSER:L. Rabb - J. Walters
A-SIDE PUBLISHER: Hyaka Music (ASCAP
B-SIDE MATRIX:
1.) JZSS 153998
2.) ZSS 153999
B-SIDE STAMPER CODE:
1.) ZSS 153998 - 1C STEREO (etched wax)
2.) ZSS 153999 - 1B STEREO (etched wax)
B-SIDE COMPOSER: L. Rabb
B-SIDE PUBLISHER:(Publisher Not Listed)