The Northwest Collection
SERIAL#: 0200
DATE: 1980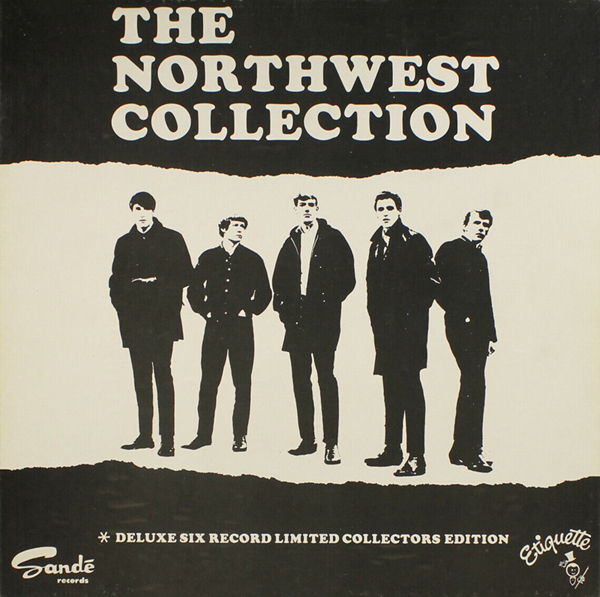 MISC NOTES: A 6-disc boxed set featuring reproductions of five Etiquette album releases and one Sande label release. Individual record sleeves are made of lightweight white paper with all graphics, numerals and lettering in black. Box set had no Serial Numbers. This set was produced in collaboration by Etiquette Records' Buck Ormsby and Sande Records' Roger Hart, and it successfully kicked off a second life for Etiquette. Distribution was handled by Bob Jeniker of Portland, Oregon's Park Avenue Records shop.
Etiquette Records
l. The Fabulous Wailers At The Castle (ET-AL-1)
2. Here Are The Sonics  (LP-024)
3. The Wailers Out Of Our Tree (ET-ALB-026)
4. The Sonics Boom (ET-ALB-027)
5. The Northwest Collection Vol. 1 (ET-ALB-1028) [various artists]
Sande Records
6. Paul Revere And The Raiders   (Sande S-1001)
LOCATION: Seattle / Tacoma / Portland
RECORDING PERSONNEL:
RECORDING STUDIO: Spanish Castle ballroom / Commercial Recorders / Audio Recording / Wiley- Griffith / Northwestern Inc.
RECORDING ENGINEER: Engineers: Pat O'Day / Lyle Thompson / Kearney Barton / Bill Wiley / Bob Lindahl.
FORMAT: disc
SIZE: 12"
SPEED: 33 1/3 rpm
DISC NOTES: For complete song listings see original album postings.