The Sonics 50
SERIAL#: LP - 2050
DATE: 2015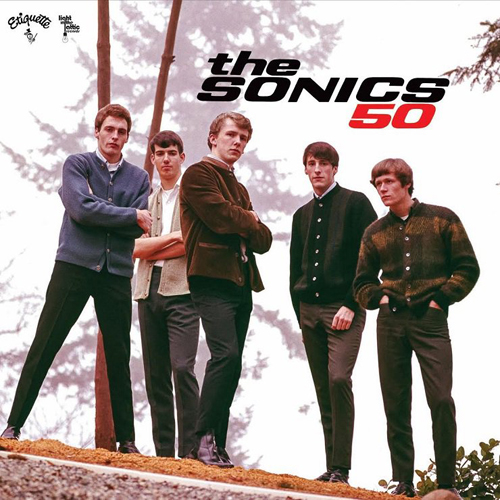 MISC NOTES: Three-album boxed set issued to commemorate the 50th anniversary of The Sonics slamming onto the airwaves of the Pacific Northwest. The package included: "Exact replicas of the two classic albums  THE SONICS  made for Etiquette Records in 1965 with remastered mono sound and authentic tip-on sleeve and label art. Here Are The Sonics features, for the first time, the proper reproduction art of its cover image."
!!! Here Are The Sonics !!!
Side 1:
1.) The Witch (G. Roslie)
2.) Do You Love Me (B. Gordy)
3.) Roll Over Beethoven (C. Berry)
4.) Boss Hoss (G. Roslie)
5.) Dirty Robber (Morrill - Greek)
6.) Have Love Will Travel (R. Berry)
Side 2:
1.) Psycho (G. Roslie)
2.) Money (J. Bradford - B. Gordy)
3.) Walkin' The Dog (R. Thomas)
4.) Night Time Is The Right Time (Brown - Cadena - Herman)
5. ) Strychnine (G. Roslie)
6.) Good Golly Miss Molly (R. Blackwell -  J. Marascalco)
The Sonics Boom
Side 1
1.) Cinderella (G. Roslie)
2.) Don't Be Afraid Of The Dark (G. Roslie)
3.) Skinny Minny
4.) Let The Goodtimes Roll (Leonard Lee)
5.) Don't You Just Know It (Smith - Vincent)
6.) Jenny Jenny (E. Johnson - R. Penniman)
Side 2
1.) He's Waitin' (G. Roslie)
2.) Louie Louie (B. Berry)
3.) Since I Fell For You (Buddy Johnson)
4.) Hitch Hike (Stevenson - Paul - Gove)
5.) It's Allright
6.) Shot Down (G. Roslie)
VOLUME THREE:*
"Ten track collection of vintage SONICS  rarities packaged in a period-style tip-on sleeve. Contains alternate versions, non-LP singles sides and live tracks, plus the band's contributions to the 1965 Etiquette album Merry Christmas"
Side 1
1.) The Witch [alternate take] (Gerald Roslie)
2.) Keep A Knockin' (Richard Penniman)
3.) The Hustler (Gerald Roslie)
4.) Psycho [Live] (Gerald Roslie)
5.) The Witch [Live] (Gerald Roslie]
Side 2
1.) Santa Claus (Gerald Roslie)
2.) It's Christmas aka On Broadway (Jerry Leiber - Mike Stoller - Barry Mann - Cynthia Weil)
3.) Don't Believe In Christmas (Gerald Roslie)
4.) The Village Idiot aka Jingle Bells (James Pierpoint)
5.) The Witch [Switchblade Version] (Gerald Roslie)
*Disc has Audio Recording label, but Etiquette number: (LP-2050-3)
OTHER PACKAGE ITEMS: 
36 PAGE BOOKLET:
Fully illustrated LP - sized booklet featuring a brand new 5,000 word oral history of THE SONICS, as told by all five original members and Etiquette founder Buck Ormsby
RARE & UNSEEN PHOTOS:
Over two dozen iconographic images drawn from the archives of photographer Jini Dellaccio, including many previously unpublished shots, along with further illustrations and memorabilia from the Etiquette era.
18" x 24" FULL COLOR POSTER & DOWNLOAD CARD
FORMAT: disc
SIZE:12"
SPEED: 33 1/3 rpm
DISC NOTES:
For additional album data see original Etiquette LP listings (ET #s 024 & 027) and Audio Recording LP listing (# ETIQUETTE LP - 2050 - 3) for Volume - 3.