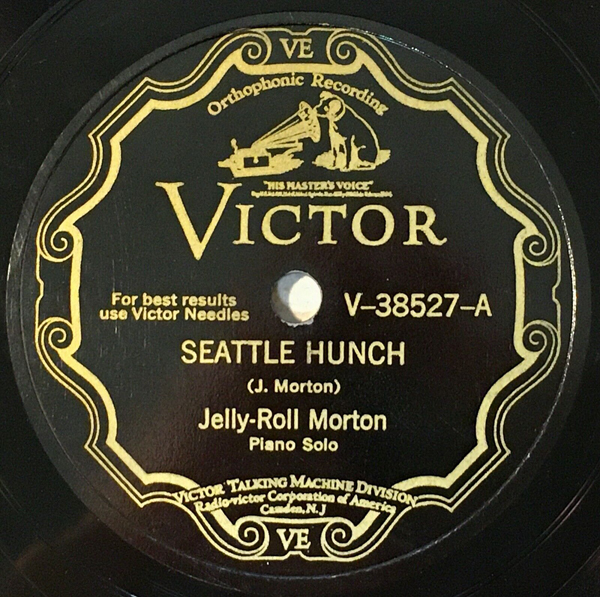 MISC NOTES: Recorded on July, 8, 1929, "Seattle Hunch" was allegedly inspired by Morton's feeling that, after getting himself in a bit of gambling debt in town, he better get out while he could. "Freakish" was his description of men who, in Morton's own words bore the "femininity stamp" as based on his experiences in a nightlife scene populated by pimps, pool sharks, hookers and gays.
LOCATION: New Jersey
RECORDING PERSONNEL:  Morton (piano)
RECORDING STUDIO:
RECORDING ENGINEER:
FORMAT: disc
SIZE: 10"
SPEED: 78 rpm
DISC NOTES: Original issue had "scroll" label design. Later reissued in Victor's "Swing Series." and another RCA Victor release (# p-75-7  27565).
A-SIDE MATRIX: V-38527-A
A-SIDE STAMPER CODE:
A-SIDE COMPOSER: J. Morton
A-SIDE PUBLISHER:
B-SIDE MATRIX: V-38527-B
B-SIDE STAMPER CODE:
B-SIDE COMPOSER: J. Morton
B-SIDE PUBLISHER: