"Daddy, Roll 'em" / "Sylvie"
SERIAL#: 10001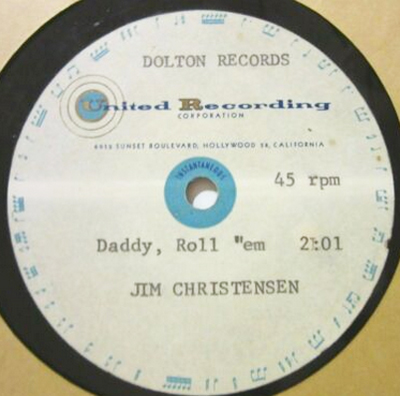 MISC NOTES:
This disc had no Serial Number. We have assigned it the random number of 10001, so that it doesn't totally mess up the chronology of the Dolton Records labelography.
"Sylvie" and "Daddy" were released on the Unity label, as credited to "Chris Christensen."
LOCATION:
RECORDING PERSONNEL: Jim Christensen;
RECORDING STUDIO:
RECORDING ENGINEER:
FORMAT: disc
SIZE: 7"
SPEED: 45 rpm
DISC NOTES: Unreleased version of "Sylvie." Label on this acetate disc is from the "United Recording Corporation" in Hollywood. The songs may have been recorded there, but it is more likely that the recordings were just Mastered there for the Dolton label.
A-SIDE MATRIX:
A-SIDE STAMPER CODE:
A-SIDE COMPOSER:
A-SIDE PUBLISHER:
B-SIDE MATRIX:
B-SIDE STAMPER CODE:
B-SIDE COMPOSER:
B-SIDE PUBLISHER: