"Hitch Hiking Home" / "S.O.S."
SERIAL#: 714
DATE: 1963-09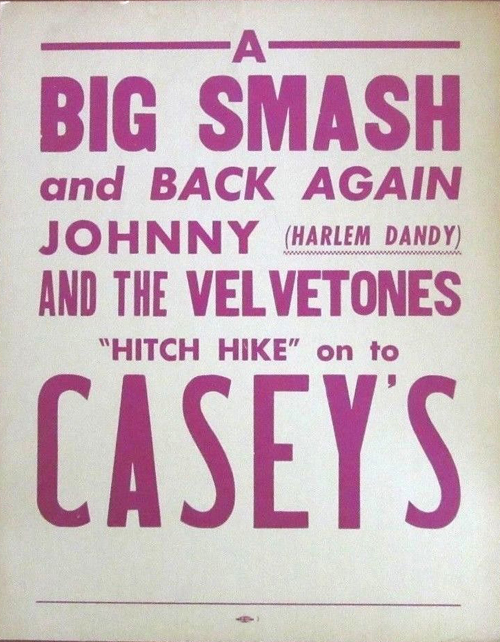 MISC NOTES: Johnny & The Velvetones was a group comprised of airmen stationed at Larson AFB located in Moses Lake, WA. Frontman/vocalist  Johnny Raucci, Jr. was of Filipino heritage.
Poster Image: Casey's was an "upstairs" dance hall located in downtown Lewiston, Idaho.
LOCATION:
RECORDING PERSONNEL:
RECORDING STUDIO:
RECORDING ENGINEER:
FORMAT: disc
SIZE: 7"
SPEED: 45 rpm
DISC NOTES:
Known Label Designs:
1RA.) A - B retail disc. Light blue label background. Pinkish logo accents. Pinkish numerals and lettering except light blue jerden.
1RB.) A - B retail disc. Same as 1RA except for runout matrix on "Hitch Hiking Home." See below:
A-SIDE MATRIX

:
1RA.) 45 JD 34 (etched wax); 45 - JD - 34 (label)

1RB.) 45 JD - 34 - RE - 1 (etched wax); 45 - JD - 34 (label)
A-SIDE STAMPER CODE

:
1RA.) ^49204 (August/September, 1963)

1RB.) ^49204 (August/September, 1963)
A-SIDE COMPOSER

: Raucci, Jr. - Dilena - Cunningham
A-SIDE PUBLISHER

: Burdette Music Co. (BMI)
B-SIDE MATRIX:
1RA.) 45 JD - 35 (etched wax); 45 - JD - 35 (label)
1RB.) 45 JD - 35 - RE - 1 (etched wax); 45 - JD - 35 (label)
B-SIDE STAMPER CODE:
1RA.) ^49204 - X (August/September, 1963)
1RB.) ^49204 - X (August/September, 1963)
B-SIDE COMPOSER :Raucci, Jr. - Dilena - Cunningham
B-SIDE PUBLISHER: Burdette Music Co. (BMI)