DON & the GOODTIMES
Homebase
: Portland, OR
Stats
: 1964 - 1968
Misc NotEs:

SEE ALSO:
1.) TOUCH [I]
The early fall months of 1964 saw Oregonians becoming acquainted with a rock band known as Don and the Goodtimes. Founded some nine months earlier and originally dubbed simply The Goodtimes, the young group gained initial notoriety as house band for The Chase, a teenage nightclub in the Portland suburb of Milwaukee.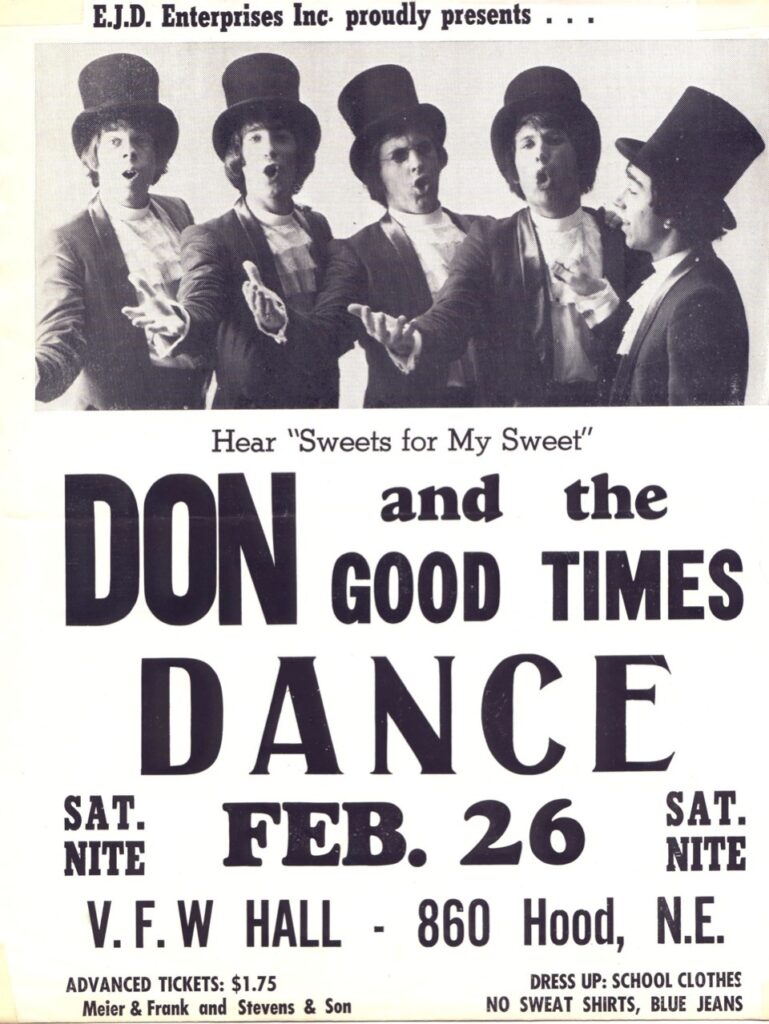 As engendered by a Seattle band, The Counts, "Turn On Song" (Sea Crest 6003) was a smoothly polished, jazz oriented number featuring subtle, but strong and flowing organ chording overlaid by distinctive trumpet-sax riffs. For Don and the Goodtimes, as the band came to be called with the record's release, the melody was the same, but there similarities ended. Gone was the smoothness and any inkling of jazz precision. Replacing subtle perfection was coarseness and raw power. As Goodtimes sax man Don McKinney put it, "(Musically) we really didn't know what we were doing, so our version came out pretty funky." Funky? Maybe, but distinctive enough to bypass Northwest regional release and jump straight to New York's Wand record label where not long before another Portland group, The Kingsmen, had made their mark with a song entitled "Louie, Louie."
Backed by the straight ahead instrumentality of "Make It," "Turn On" wasn't destined to sell a million copies, but it did prove to be the first step in breaking Don and the Goodtimes out of their Portland environs. Exposure southward through their home state soon turned northward to the Puget Sound region of Washington where adoption of a "top hat and tails" image of good living, plus wild showmanship ala Paul Revere and the Raiders soon made Don and the Goodtimes a staple within the thriving Northwest teen dance scene. Points beyond now beckoned.
[A variation of the preceding article originally appeared in NORTHWEST DISC-COVERIES & SOUND REPORT Volume 4 #8 October, 1979.]
search by ARTIST
TO SEARCH, PLEASE EITHER SCROLL THE ARTIST
LIST BELOW
(AT LEFT) – OR USE THE
SEARCH FIELD BELOW
(AT CENTER).
Scroll to see all artists
Search for a name