LINDEN, EUGENE
Homebase: Chicago / Portland / Tacoma
Stats:1912-1983
Photo: Autographed & inscribed to longtime Seattle music critic, J. Willis Sayre. Image courtesy of the University of Washington Libraries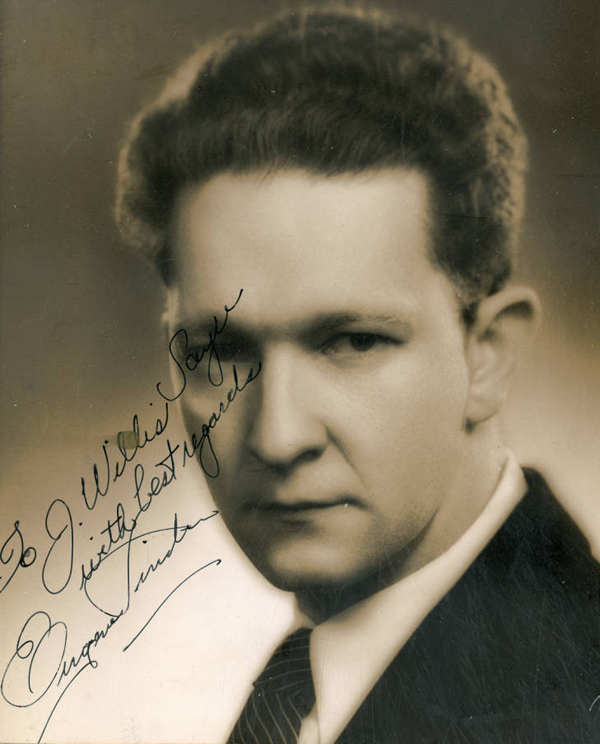 Eugene Linden was born to a musical family in Chicago in 1912. His father was Harry Linden, concertmaster of the Chicago opera orchestra, and his mother was a violinist who began playing at age twelve and was musical director at Chicago's La Salle Hotel.
Linden led his first orchestra when he was in grade school and knew then of his desire to be a professional conductor. He attended Jefferson High School in Portland, Oregon, where he was conductor of the band. Under his leadership the ensemble placed first in three state high school contests and placed second in a fourth. In May 1930, he gained attention as conductor when the Jefferson band participated in the national high school band contest in Flint, Michigan. He received recognition and recommendation from John Philip Sousa. Eugene graduated from Jefferson High School in 1930.
Portland Junior Symphony
Linden's conducting career began with the Portland Junior Symphony (PJS), the first youth orchestra in the United States (established in 1924) which later became known as the Portland Youth Philharmonic. Linden played in the orchestra for several seasons before becoming a student conductor to Jacques Gershkovitch. His conducting premiere came when he conducted Beethoven's Egmont for the Portland Junior Symphony. By 1930, Linden was promoted to the position of assistant conductor, though he continued playing flute and piccolo in the orchestra.
Tacoma Philharmonic
In 1933, Linden hitchhiked from Portland to Tacoma, Washington at the age of twenty-one, hoping to establish an orchestra. Three musicians attended the first rehearsal. According to Linden, "No musicians would have been a failure, three was a beginning." Within a few months Linden assembled an ensemble of 65 musicians, with initial rehearsals held at Ted Brown Music Company and the Winthrop Hotel. The basement of the State Armory became the first regular rehearsal space, followed by the Scottish Rite Cathedral. The orchestra was based here until their first concert, held on March 17, 1934 at Jason Lee Intermediate School and attended by 800 guests.
Musicians were not paid during the first two years of the organization's existence. Linden donated his time, commuting from Portland and residing with Belle Hodges Fletcher during his time in Tacoma. The orchestra incorporated and officially adopted the name Tacoma Philharmonic, establishing a constitution and by-laws in the process. The Philharmonic performed for local servicemen often during the 1940s. In 1947, the Tacoma Philharmonic, Olympia Orchestra, and Seattle Symphony united to create the short-lived Pacific Northwest Symphony Orchestra, with Linden serving as the associate conductor. From 1948 to 1950, Linden was also music director of the Seattle Symphony. He is also credited as founder of the now defunct Northwest Grand Opera Company.
search by ARTIST
TO SEARCH, PLEASE EITHER SCROLL THE ARTIST
LIST BELOW
(AT LEFT) – OR USE THE
SEARCH FIELD BELOW
(AT CENTER).
Scroll to see all artists
Search for a name