O'KEEFE, DANNY
Homebase: Wenatchee, WA / California
Stats:
Misc Notes: Danny O'Keefe was born in Spokane in 1942, and his family moved to Wenatchee in 1949. As a teenager he attended Pat Mason-produced shows at the D&D Roller Bowl featuring Little Richard, Fats Domino, and Gene Vincent with Jerry Merritt and the Pacers. As a lad his father took ill and the O'Keefes moved to Minnesota where his grandmother owned a motel. It was there that he took note of the Minneapolis folk scene and began playing the harmonica. His father passed in 1960, and later, feeling homesick for Washington, he returned and performed in a couple of Seattle's folkie coffee houses, and soon took up the guitar. By 1963 he'd hitchhiked to Greenwich Village, played a hoot at Gerde's Folk City where he met up with Bob Dylan – years later they co-wrote the song "Well, Well, Well." "Somewhere in the fall of 1965 with a … notebook of songs I headed to Seattle to see my friend Terry Bassett who was a concert promoter and was working his way up the ranks of success. He booked all the Northwest bands: the Wailers, the Dynamics, the Sonics, Paul Revere and the Raiders..." O'Keefe soon met up with Jerry Dennon who he knew had been behind the Kingsmen's "Louie Louie" hit. "We'd been dancing to it in the Northwest for years and believed 'Rockin' Robin Robert's and the Wailers' version was the best and had deserved to be the hit. Needless to say, it was already an anthem in the Northwest." Dennon took O'Keefe into Kearney Barton's studio, and in 1966 issued his debut single, "That Old Sweet Song." By 1968 O'Keefe had formed the band Calliope – which included former Emergency Exit members Luther Rabb (bass) and Paul Goldsmith (keyboards), and ex-Dimensions guitarist Clyde Heaton -- whose Steamed LP was issued by Buddah Records.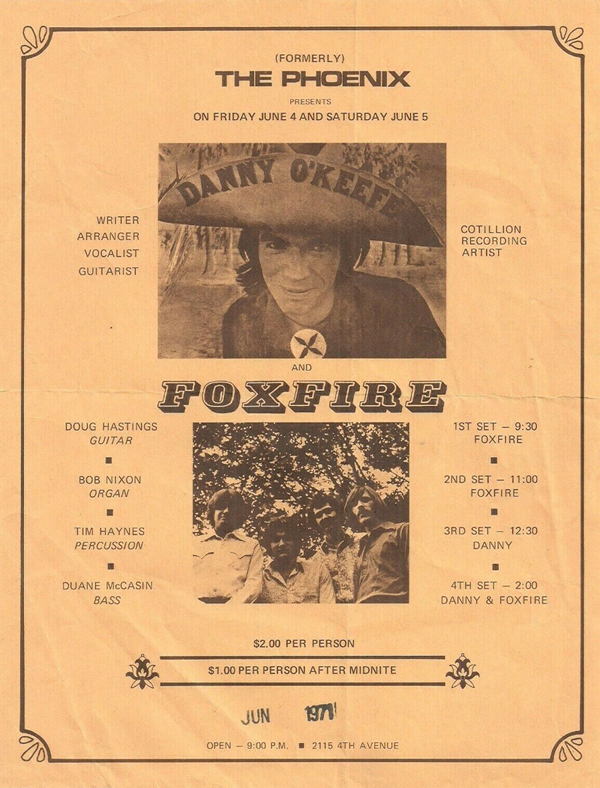 Later O'Keefe lucked into an opportunity to audition a couple songs -- with just an acoustic guitar in hand -- over the telephone, for none other than the head of Atlantic Records, Ahmet Ertegun. Among the songs was his classic, "Good Time Charlie's Got the Blues." O'Keefe was flown to Muscle Shoals Studio in Alabama where he proceeded to cut his debut album with some of the finest session cats in the world. That tune became a #9 Billboard hit in 1972, and was later covered by Elvis Presley, Willie Nelson, Jerry Lee Lewis, Chet Atkins, Waylon Jennings and many others. Thus began O'Keefe's long career of penning tunes that would be covered by the likes of: Jackson Brown ("The Road"), Judy Collins ("Angel Spread Your Wings"), Donny Hathaway ("Magdalena"), Glen Campbell ("Quits"), and Miranda Lambert ("Covered Wagon"). Asked once who were his musical heroes were, part of his answer was: "I loved some of the Northwest bands and players like the Wailers and the Dynamics -- and guitar players like Larry Coryell, Rich Dangel, and Joe Johansen were influences."
ALSO SEE:
1.) HORNER & The PLUMS, JACK
2.) CALLIOPE
search by ARTIST
TO SEARCH, PLEASE EITHER SCROLL THE ARTIST
LIST BELOW
(AT LEFT) – OR USE THE
SEARCH FIELD BELOW
(AT CENTER).
Scroll to see all artists
Search for a name