BEATNIK JAZZ – bongo beats, brainy piano figures, seductive saxophone lines, & crazy scat singing – Cecil Young's combo certainly knew what was hip at the dawn of the 1950s! This musically progressive quartet "exploded onto the Seattle jazz scene in 1950, introducing the rhythmic fire of bebop to an eager new audience," noted jazz historian Paul de Barros. Indeed, they "quickly became a regional sensation. Commanding breakneck tempos, the quartet's aggressive rhythm section mesmerized crowds across Seattle, Tacoma, and Yakima. Young was a modern piano player whose sparse, fierce, and harmonically sophisticated playing propelled his quartet."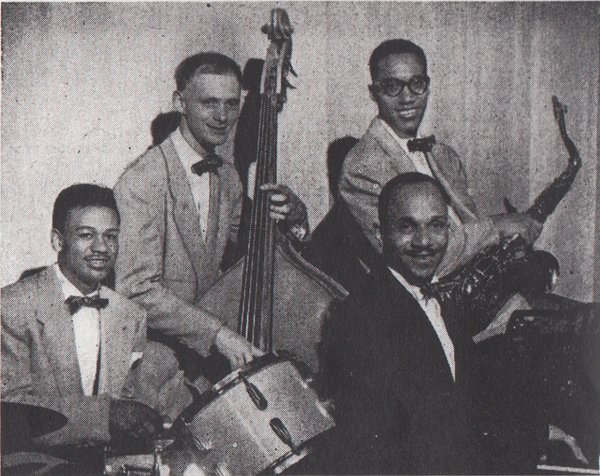 Young had already jammed in New York City reefer dens with bebop luminaries like Dizzy Gillespie & Charlie Parker before hitting the road. It was 1950 when his act broke up in Seattle after a final gig at the Palomar Theater (1300 Third Avenue). Young easily scored a gig at the New Chinatown nightclub (Sixth Avenue S. & South Main Street), after recruiting a new racially integrated combo that would include Traff Hubert (bass), & Jimmie Rodgers (drums). Perhaps Young's best find though was Gerald Brashear (tenor sax & bongos) who had already played with Ray Charles in his Seattle years (1948-1950) & with Billy Tolles – a wild saxman who would soon pioneer local rock 'n' roll.
It was on June 10, 1951, that the red-hot quartet performed at Seattle's Metropolitan Theatre (Fourth Avenue & University Street) for the Concert of Cool Jazz which was a fund-raising benefit show for Cerebral Palsy Fund – a gig that was luckily recorded, as was another show at the Ladies Music Club (807 E. Roy Street). The amateur audio engineer who captured the shows for posterity was Seattle's Ampex tape distributor, Bert Porter.
The theater event began with the combo's theme song, "Race Horse" & moved along to other standouts like "Who Parked The Car," which featured Brashear's bop vocals. Another tune, "Oooh-Diga-Gow," showcased his bongo skills – which later, in 1955, would earn Brashear the National Metronome Awards for conga & bongo drums. Five days later Down Beat magazine published a rave feature essay titled "Seattle Develops Great New Group." It began by trying to set the context for the combo's emergence: "It has been some years since the northwest has contributed anything outstanding to the music scene--but a new group here is rapidly making up for lost time."
Before long the head of Cincinnati–based King Records, Sid Nathan, visited Seattle & after hearing the tapes signed the combo up & several records followed including the Concert of Cool Jazz 10" LP [King 295-1] which featured tunes such as "Cecil's House Party Blues" (& "Tribute To Al Benson," which presumably is a misspelling of local jazz impresario, Art Benson), & an identically titled 12" LP [King 395-505]. In addition, two 7" EPs, Cecil Young Progressive Quartet [King 247 & 277], & a series of singles were issued, including "That Old Black Magic" [King 4604], "Fish Net" [King 4638], "Tea For Two" [King 15165], "Monsieur Le Duc" [King 15165], "Rushin' On Home" [King 15175], & "Fine and Dandy" [King 15192].
Upon its 1951 release, the Concert of Cool Jazz 10"sold quite well – the first Seattle-produced disc to catch outside ears since Ray Charles' 1949 Maxin Trio recordings had effectively launched his remarkable career. Indeed, sales of the the disc broke out in California (and then in France when issued there by Vogue Records) after America's ace jazz critic, San Francisco's Ralph Gleason, raved that "Who Parked the Car" was the best scat solo ever recorded. Even Nat King Cole described the tunes as "the swingiest bop I've ever heard." And with those accolades, the quartet's Seattle days were numbered: the nation's greatest talent bookers, the William Morris Agency, signed the band, a national tour commenced, & after a final show at New York's fabled jazz room, Birdland, the Cecil Young Quartet's members split the scene. Of the foursome, I know that Hubert returned to Seattle where we first met up nearly two decades ago -- & lemme tell you: he was still a very hip cat.