Garland Records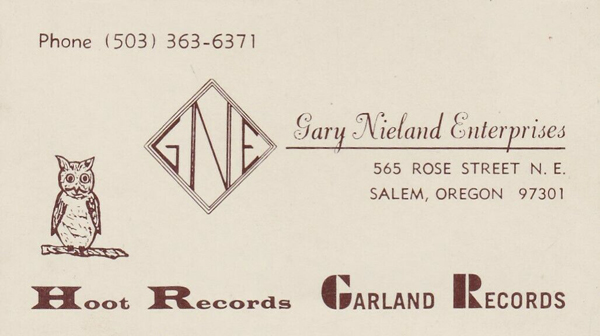 LOCATION: 565 Rose Street, Salem, OR.
OWNER(s): Gary Nieland (b. 1942 Canby, OR). Drummer / singer / recording engineer.Played with The ("Tequila") Champs (1961 - 1963) as well as other national and many Oregon bands.
TIMESPAN: 1960s--1980s
SEE ALSO:
1.) Hoot Records
2.) Licorice Records
Known Label Designs:*
1.) Green, light blue, purple or orange. background.. Horizontal accent lines lines top and bottom of spindle hole encompassing printed information left and right of hole. All accent line,  numerals and lettering black.except on dark  label background: silver.
2.) Black background left side of spindle hole to right side of label. Orange background left of spindle hole with large verticle GARLAND and small horizontal RECORDS. All other numerals and lettering orange.
3.) As #1 above, but without horizontal accent lines.
*There are no known Garland 45 or 33 1/3 rpm promo labels.
search by LABEL
TO SEARCH, PLEASE EITHER SCROLL THE LABEL
LIST BELOW
(AT LEFT) – OR USE THE
SEARCH FIELD BELOW
(AT CENTER).
Scroll to see all labels
Search for a name