"Mean, Mean Mamma" / "Shake It And Break It"
SERIAL#: 2501
DATE: 1923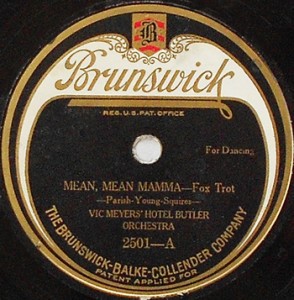 MISC NOTES: This was the first commercial record ever cut in Seattle.
LOCATION: Seattle, WA.
RECORDING PERSONNEL:
RECORDING STUDIO: Butler Hotel ballroom (2nd Avenue & James Street).
RECORDING ENGINEERs: A mobile field crew from the Brunswick-Balke-Collender Co.
FORMAT: disc
SIZE: 10"
SPEED: 78 rpm
DISC NOTES:
A-SIDE MATRIX:
A-SIDE STAMPER CODE:
A-SIDE COMPOSER: Parish - Young - Squires
A-SIDE PUBLISHER:
B-SIDE MATRIX:
B-SIDE STAMPER CODE:
B-SIDE COMPOSER: Clark - Friscoe
B-SIDE PUBLISHER: