The History of Northwest Rock Volume V
DATE: 1984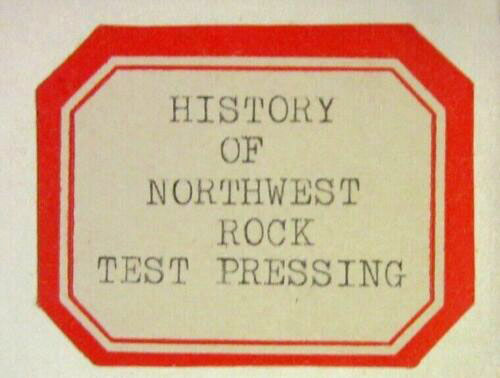 MISC NOTES: Test pressing with a blank white jacket (with a type-writer written ID label at top right corner) exists, but an official commercial release seems to never been issued. The artist and song selections seem weird, non-chronological, and with no evident theme. The songs range from Little Bill's 1959 love ballad right up to the Raymark's garage rock, and then off to Brave New World's psychedelia, and Bluebirds' pastoral country rock. Maybe the concept was: a collection of leftover odds-&-ends -- plus one legit hit: Little Bill's. There is no Great Northwest Music Co. info on labels, just this pressing plant info: H.V. Waddell Co., 231 West Olive Avenue, Burbank California 91501. Update: It has been confirmed that this album was released in cassette tape format. This disc was originally owned by Buck Ormsby. It then went to Jeff Miller's collection. It is now in the NWMA's permanent collections.
Side A
1.) Brave New World "It's Tomorrow"
2.) Little Bill & The Bluenotes "I Love An Angel"
3.) Juveniles "Bo Diddley"
4.) Bandits "Queen Jane"
5.) Bluebird "Billy Drake"
Side B
1.) Little John & the Monks "Needles & Pins"
2.) New Yorkers "Again"
3.) Raymarks "Louise"
4.) Beachcombers "The Wheeley"
5.) Doug Robertson & the Goodguys "Desiree"
LOCATION: Seattle
RECORDING PERSONNEL:
RECORDING STUDIO: Audio (except Little Bill's track, cut at Joe Boles studio)
RECORDING ENGINEER: Kearney Barton / Joe Boles
FORMAT: disc
SIZE: 12"
SPEED: 33 1/3 rpm
DISC NOTES: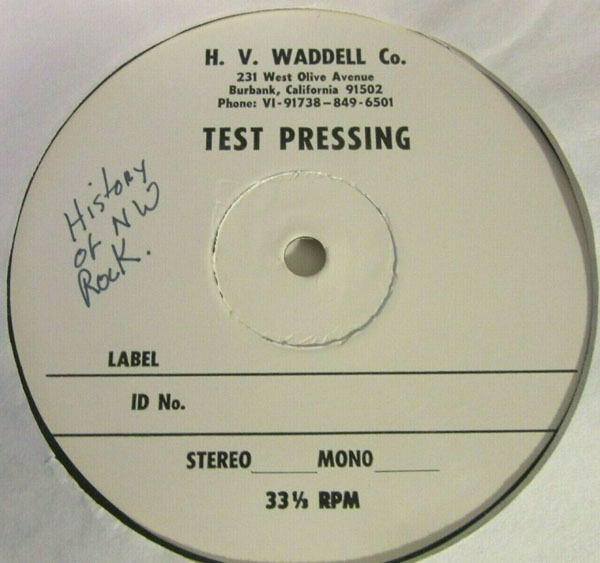 A-SIDE MATRIX:
A-SIDE STAMPER CODE:
A-SIDE COMPOSER:
A-SIDE PUBLISHER:
B-SIDE MATRIX:
B-SIDE STAMPER CODE:
B-SIDE COMPOSER:
B-SIDE PUBLISHER: