CHAMBREAU, EDWARD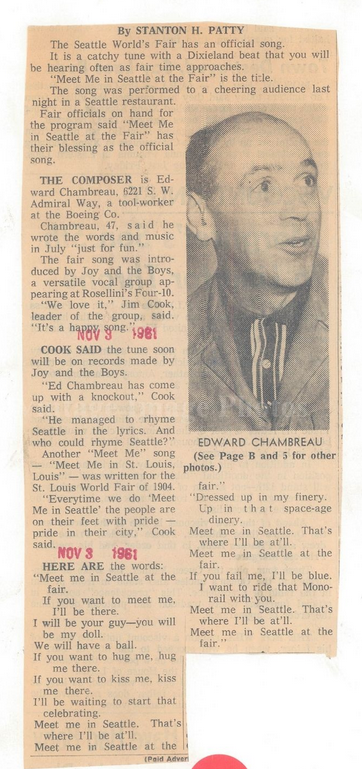 Homebase: 6221 S.W. Admiral Way, Seattle
Stats:
Misc Notes: Seattle musician and songwriter.
ALSO SEE:
1.) Joy & the Boys' "Meet Me In Seattle (At The Fair") 45.
2.) The Frantics' "Meet Me In Seattle Twist" 45.
3.) Myron Hinkle's Noise From the Blue Banjo LP.
#[no serial numbers on labels]
[
MISC NOTES:
LOCATION: Seattle
RECORDING PERSONNEL:
RECORDING STUDIO: Audio Recording Inc
RECORDING ENGINEER:  Kearney Barton
FORMAT: disc
SIZE: 12"
SPEED: 33 1/3 rpm
DISC NOTES:
A-SIDE MATRIX:
A-SIDE STAMPER CODE:
A-SIDE COMPOSER:
A-SIDE PUBLISHER:
B-SIDE MATRIX:
B-SIDE STAMPER CODE:
B-SIDE COMPOSER:
B-SIDE PUBLISHER:
search by ARTIST
TO SEARCH, PLEASE EITHER SCROLL THE ARTIST
LIST BELOW
(AT LEFT) – OR USE THE
SEARCH FIELD BELOW
(AT CENTER).
Scroll to see all artists
Search for a name