Audio Recording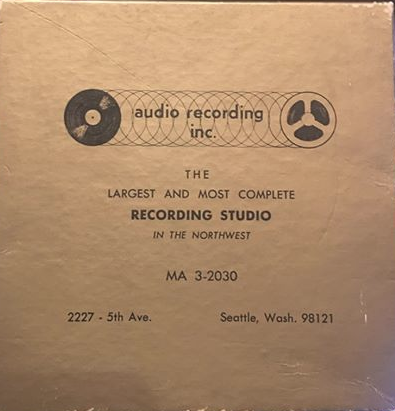 LOCATION: Seattle, WA.
OWNER(s): Kearney Barton.
TIMESPAN: 1961- 1970 /  2000 +
MISC NOTES: Kearney Barton founded Audio Recording at 170 Denny Way, as a custom, affordable, in-house label at his Audio Recording, Inc. studio in Seattle.In 1965 he  moved the studio to 2227 5th Avenue and, finally, to his Bryant neighborhood home (4718 38 Avenue NE) in  Seattle.
Throughout its lifespan, the label's image was the studio's rather unimposing Audio Recording "record disc to tape reel/tape reel to record disc" logo (shown here on a tape box) on a gold background. Some labels were noted as: Audio Recording, Inc., while others were: Audio Recording
SEE ALSO:
1.) Kay Bee
2.) Topaz Records
search by LABEL
TO SEARCH, PLEASE EITHER SCROLL THE LABEL
LIST BELOW
(AT LEFT) – OR USE THE
SEARCH FIELD BELOW
(AT CENTER).
Scroll to see all labels
Search for a name