GALLAHADS, The
Homebase: Seattle, WA
Stats: 1952-62 (and occasional reunions)
Misc Notes: The national record market has seen numerous releases by groups called the Gallahads on record labels such as Vik, Capitol and Jubilee. Those recordings are not related to Seattle's Gallahads.
Original Members:
Jimmy Pipkin ~ Lead Vocals
Anthony "Tiny Tony" Smith ~ Second Tenor (b.1940- d.1987)
Ernie Rouse ~ Bass Vocals
Bobby Dixon ~
Joe Hardy ~
Clifton James ~
Later Members:
Ray Robinson ~ Vocals
Betty (Martin) Rouse ~
Sonny Taylor ~
Charles Sampson ~
Charles Wright ~ Vocals
SEE ALSO:
1.) PIPKIN and THE GALLAHADS, JIMMY
2.) WRIGHT and the GALLAHADS, CHARLES
3.) ECHOES, THE
4.) VALLEY & the VICEROYS, JIM  [ "I Love A Girl" /"My Only Love" Dream 267 (1960) with: Tiny Tony & the Gallahads (uncredited background vocals)]
"THE GALLAHADS: SEATTLE'S 1950s DOO-WOP KINGS"
by Peter Blecha (Courtesy & copyright, 2008,  HistoryLink.org)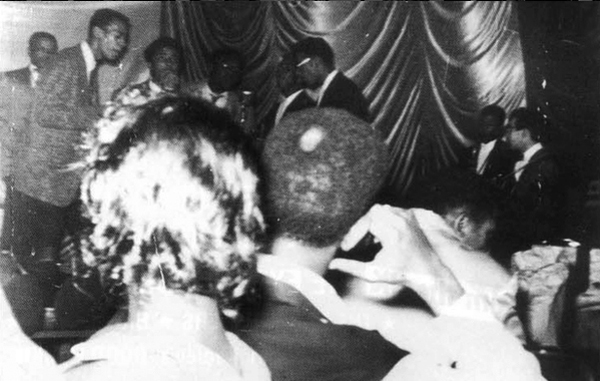 PHOTO: (L-to-R) Hardy, Dixon, Smith, James, Pipkin -- performing at The Birdland, Seattle (1959).
In the 1950s, doo-wop singing flourished on the street corners of America's big cities, where countless a cappella vocal harmony groups created classic rock 'n' roll songs, often characterized by the chanting of nonsense syllables. Here in the Pacific Northwest, such groups were rather scarce, but a few of historical note are Tacoma's Barons and Four Pearls, Everett's Shades, Seattle's Five Checks, Fabulous Winds -- and the Gallahads, who cut a handful of promising discs in Hollywood. One single, "Lonely Guy," hit Billboard and Cash Box magazines' best-seller charts in 1960, and various members of the group went on to sing with early popular Northwest bands, including the Dynamics, Viceroys, El Caminos, Statics, Counts, Soul Deacons, and the Boss Five. [READ MORE...]
search by ARTIST
TO SEARCH, PLEASE EITHER SCROLL THE ARTIST
LIST BELOW
(AT LEFT) – OR USE THE
SEARCH FIELD BELOW
(AT CENTER).
Scroll to see all artists
Search for a name