"The Real McCoy" / "Cookies and Coke"
SERIAL#: 100
DATE: 1959-10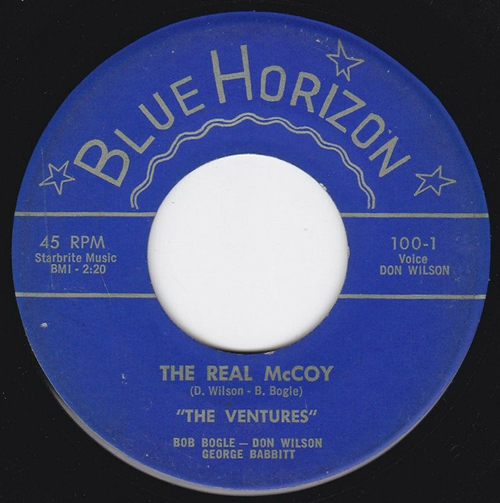 MISC NOTES: A-side is a comedic parody of actor Walter Brennan's popular television show "The Real McCoys" (1957 - 1963) style of speech. Guitarist Don Wilson provided the vocal impersonation of Brennan. Record may have been released as early as September 1959. When "Walk, Don't Run" was released on Dolton (#25), b-side was originally "Home." Later pressings (#25 X) featured "The McCoy" which was remake of "The Real McCoy" speeded up and without voice impersonations.
LOCATION: Seattle, WA.
RECORDING PERSONNEL: Don Wilson (rhythm guitar / vocals), Bob Bogle (lead guitar), Earl Herbert (bass), George Babbitt (drums).
RECORDING STUDIO: Joe Boles Custom Recorders.
RECORDING ENGINEER: Joe Boles.
FORMAT: disc
SIZE: 7"
SPEED: 45 rpm
DISC NOTES: This disc has been reissued with these Matric numbers: 45 - BH - 100 - 1 - RE / 45 - BH - 100 - 2 - RE.
[HEAR IT HERE] The Real......."
https://www.youtube.com/watch?v=kPuVTrfgxHc
A-SIDE MATRIX: BLUE HORIZON 100 - 1
A-SIDE STAMPER CODE:  ^32240  (September/October, 1959)
A-SIDE COMPOSER: D. Wilson - B. Bogle
A-SIDE PUBLISHER:  Starbrite Music (BMI)
B-SIDE MATRIX: BLUE HORIZON 100 - 2
B-SIDE STAMPER CODE: ^32241 (September/October, 1959)
B-SIDE COMPOSER: B. Boglle - D. Wilson
B-SIDE PUBLISHER: Starbite Music (BMI)