VENTURES, The
Homebase: Tacoma, WA.
Stats: 1958-2018
ALSO SEE:
1.) The Ventures Quintet (with Scott Douglas)
2.) The Marksmen
3.) Don Wilson
4.) The New Ventures
5.) The Moonstones
THE VENTURES were an instrumental rock 'n' roll band formed in 1958 in Tacoma, Washington. Founded by Don Wilson and Bob Bogle, the group in its various incarnations has had an enduring impact on the development of rock music worldwide. With over 100 million records sold, the group is the best-selling instrumental band of all time. Their instrumental virtuosity, experimentation with guitar effects, and unique sound laid the groundwork for innumerable groups, earning them the moniker "The Band that Launched a Thousand Bands." In 2008, the Ventures were inducted into the Rock and Roll Hall of Fame.
Formation and rise to fame
Don Wilson and Bob Bogle first met in 1958, when Bogle was looking to buy a vehicle from a used-car dealership in Seattle that was owned by Wilson's father. Finding a common interest in guitars, the two decided to learn to play together – with Bogle also taking some private lessons from Ron Peterson, guitarist with Seattle's popular band, the Frantics.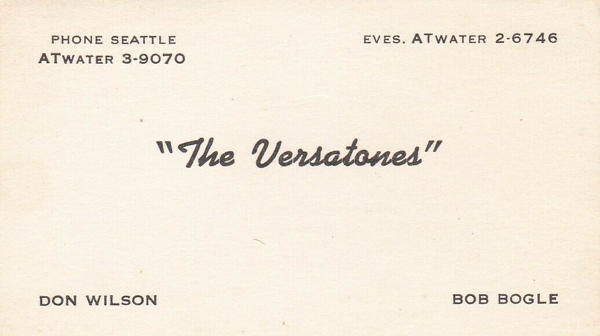 Initially the duo called themselves the Versatones, they played little gigs for college kids and private parties. Soon a combo was formed with Wilson (rhythm guitar), Bogle (lead guitar), Earl Herbert (bass), and George Babbitt (drums). Sometimes when they performed on the Tacoma television program, Bill & Grover's Variety Show, the Versatones backed local pop singer Nancy Claire.
In 1959 the Northwest rock 'n' roll scene simply erupted – with the Fleetwoods, Frantics, Little Bill and the Bluenotes, and the Wailers all suddenly scoring national and/or international hits  – most of them recorded in Joe Boles' home studio in West Seattle. The Ventures decided to form their own label, Blue Horizon, and after a session with Boles they custom ordered 500 copies of their debit single "The Real McCoy" / "Cookies & Coke." But, because it did not sell well or garner much radio play. they decided to scale back and only have 300 copies of their followup single.
Lineup changes were in store as Babbitt was replaced by a local drummer, Skip Moore, and country guitarist Nokie Edwards joined the band as bassist. Bogle happened to own a Chet Atkins's Hi-Fi in Focus album which contained the Johnny Smith jazz song, "Walk, Don't Run." They devised their own driving rock arrangement and went back to Boles to cut it and another instrumental, "Home." Released on Blue Horizon in about May 1960 it was embraced by DJ Pat O'Day at Seattle's KJR radio and immediately caught the attention of the Dolton label (which was enjoying its success with the Fleetwoods and Frantics). Dolton stepped in, licensing the songs and quickly pushing the A-side into a massive nationwide, and then global hit.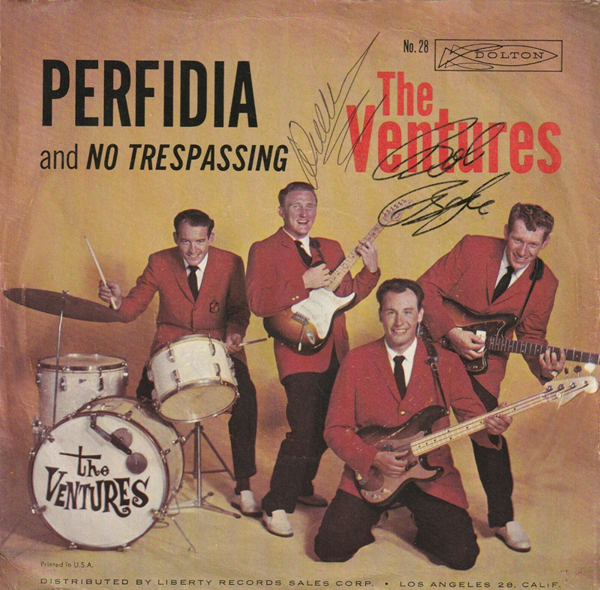 Moore had already dropped out, and Howie Johnson came aboard as drummer, and soon Bogle and Edwards switched roles as lead guitarist and bassist. Then, in the midst of a fast-paced touring schedule, they recorded an album to capitalize on the success of the single. The lineup of Bogle, Wilson, Edwards and Johnson remained intact until 1962, when Mel Taylor became their longtime drummer. The group found early success with a string of singles, but quickly became leaders in the album market.
The Latter Years
The Ventures became one of the most popular groups worldwide thanks in large part to their instrumental approach  – there were no language barriers to overcome. The Ventures are still the most popular American rock group in Japan, the world's second largest record market. They produced dozens of albums exclusively for the Japanese and European markets, and have regularly toured Japan from the 1960s through to the present. According to a January 1966 Billboard Magazine article, The Ventures had five of 1965's top 10 singles in Japan. Their commercial fortunes in the US declined sharply in the early 1970s due to changing musical trends. In the late 1970s and into the 1980s, a resurgence of interest in surf music led to some in the punk/new wave audience rediscovering the band. On March 10, 2008, the Ventures were inducted into the Rock and Roll Hall of Fame with John Fogerty as their presenter. In attendance were original members Don Wilson and Nokie Edwards, late 1960s member John Durrill, current guitarist Bob Spalding, and current drummer, Mel's son, Leon Taylor. The Ventures performed their biggest hits, "Walk, Don't Run" and "Hawaii Five-O."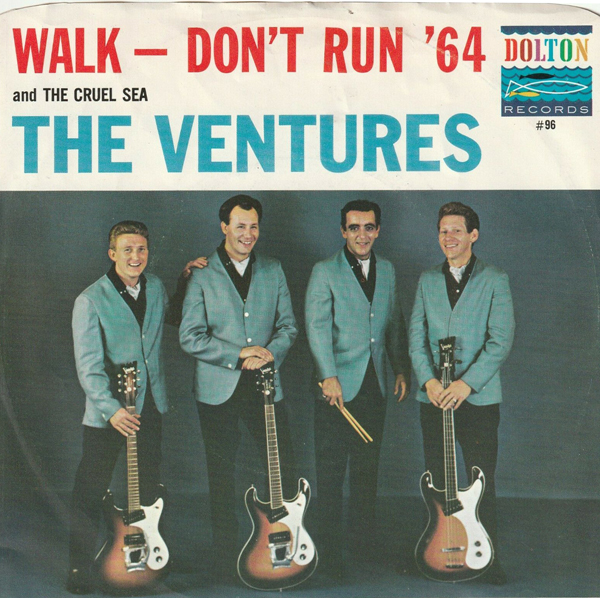 search by ARTIST
TO SEARCH, PLEASE EITHER SCROLL THE ARTIST
LIST BELOW
(AT LEFT) – OR USE THE
SEARCH FIELD BELOW
(AT CENTER).
Scroll to see all artists
Search for a name