The Fabulous Wailers At The Castle
SERIAL#: ET-ALB-1
DATE: 1962-05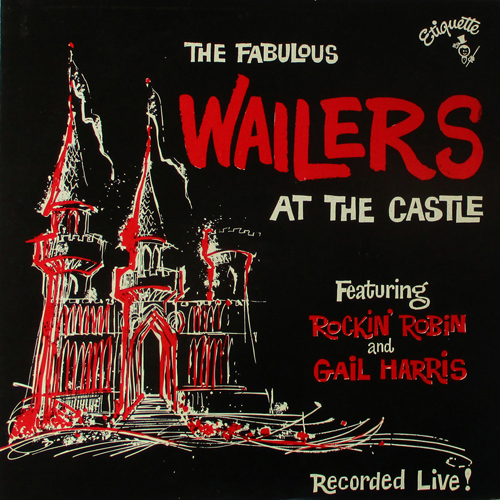 MISC NOTES: Recorded in the fall of 1961. Released May 1962.
LOCATION: Spanish Castle Ballroom, Midway Washington.
RECORDING PERSONNEL: Kent Morrill [piano, organ, vocals]; Mark Marush [sax]; Rich Dangel [lead guita]; Buck Ormsby [bass guitar]; Mike Burke [drums]; Rockin' Robin Roberts [vocals]; Gail Harris [vocals]
RECORDING ENGINEER: Pat O'Day
FORMAT: disc
SIZE: 12"
SPEED: 33 1/3 rpm
DISC NOTES:
Known Etiquette Label Designs:
1.) A - B retail disc. lst design red label background. Black logo, numerals and lettering.
2.) A - B retail disc. (Later pressing), 2nd purple label background. White  e logo. Black numerals and lettering.
Reissues:
1.) 1984. On Etiquette as part of six album Pacific Northwest Rock Collection Series boxed set.
2.)1998. On Norton Records [NY].
A-SIDE MATRIX: LP - Wailers - 1
A-SIDE STAMPER CODE:  ^4195
B-SIDE MATRIX: LP - Wailers - 2
B-SIDE STAMPER CODE: ^4195 - X
Side One
1. Wailers' House Party (Dangel - Ormsby, - Morrill)
[HEAR IT HERE]https://www.youtube.com/watch?v=XKrGulW2tsI
2. Dirty Robber (K. Morrill)
[HEAR IT HERE]https://www.youtube.com/watch?v=8OgENOZdodU
3. San-Ho-Zay (F. King - S. Thompson)
[HEAR IT HERE]https://www.youtube.com/watch?v=giXJBW_jano
4. Rosalie (R. Roberts)
5. Since You Been Gone (R. Roberts)
[HEAR IT HERE]https://www.youtube.com/watch?v=xUheUpdFoes
6. Shivers (Dangel - Ormsby - Morrill - Burke)
[HEAR IT HERE] https://www.youtube.com/watch?v=zdZqqNUybnM
7. Sac O' Woe (Julian Adderly)
Side Two
1. Tall Cool One (Dangel - Greek - Morrill)
2. You've Had Your Chance (K. Morrill)
[HEAR IT HERE]https://www.youtube.com/watch?v=ZYgcDB5AIbU
3. Limbo Twist (Dangel - Ormsby - Morrill - Burk)
[HEAR IT HERE]https://www.youtube.com/watch?v=vdtKIWvzXXQ
4. All I Could Do Was Cry (B. Davis)
[HEAR IT HERE]https://www.youtube.com/watch?v=-BfmB5rJxhM
5. I Idolize You (Ike Turner)
[HEAR IT HERE]https://www.youtube.com/watch?v=sOwmZcpmeVY
6. Zig Zag (Dangel - Ormsby - Morrill)
[HEAR IT HERE]https://www.youtube.com/watch?v=txfu9XmQkR4
7. Soul-Long (R. Dangel)
[HEAR IT HERE]https://www.youtube.com/watch?v=g4hcoKriSBA