Etiquette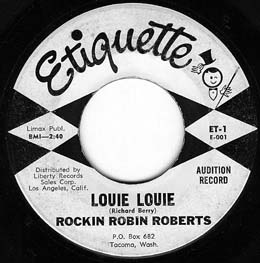 LOCATION: P.O. Box 682 and  4425 6th Ave., Tacoma, WA. (1960s) / 2442 NW Market St. #273 Seattle, WA 98107 (1980s & 2000s)
OWNER(s): Lawrence F. "Rockin' Robin" Roberts (RIP); Kent Morrill (RIP); John "Buck" Ormsby (RIP).
"ETIQUETTE RULES! THE NORTHWEST'S REIGNING '60s GARAGE-ROCK RECORD COMPANY"
by Peter Blecha [Courtesy & copyright,2009, HistoryLink.org]
Etiquette Records -- a trail-blazing firm formed by three young Tacoma musicians in 1961 -- was an enterprise that broke all the old rules. Despite its polite and classy sounding name -- not to mention that of its sister company, Valet Publishing -- Etiquette quickly came to rule the Pacific Northwest's rock 'n' roll roost by producing and promoting raucous and gritty music that came to be favored by teenaged bands and their fans in the region.
Founded as a partnership by three members of Tacoma's top band, the Wailers -- "Rockin' Robin" Roberts (vocals), Kent Morrill (piano / vocals), and John "Buck" Ormsby (bass) -- Etiquette issued a grand total of 26 45s and eight LPs between 1961 and 1967. But it was not quantity so much as quality that made the company successful and influential. Etiquette initially erupted with the world's first garage-rock version of "Louie Louie" -- and went on to issue the classic Wailers At the Castle LP, the Sonics' proto-punk radio hits ("The Witch" and "Psycho") and their longplay masterpieces, Here Are the Sonics and Sonics Boom, among many other revered '60s classics. [READ MORE....]
Etiquette Label Designs: 
The original retail design was a red label background, black top-hatted logo, diamond - like accents and black lettering. Initial Etiquette #1 pressings did not feature distribution information. Later pressings noted Distributed by Liberty Records Sales Corp. Los Angeles, Calif. on four lines to lower left of spindle hole. This distribution notation continued through Etiquette #7.
In early 1966, likely based on the  '65 success of "The Witch" and other releases  by Tacoma's  Sonics, the label underwent a complete re-design. On retail discs the red and black format was replaced by a purple label background highlight by a white stylized e and ETIQUETTE centered above the spindle hole. Arced along the bottom label edge, also in white, was ETIQUETTE RECORDS, INC. TACOMA, WASH U.S.A. This design continued throughout the remainder of Etiquette 45 rpm releases.
Promotional discs for both design #1 (see example above) and design #2 sported traditional white label backgrounds with black logos, numerals and lettering.
45 RPM RECORD LABEL KEY:
First Digit:
Label design ( Ex. 1 original  /  2nd)
First Letter:
Promo disc / Retail disc
Second Letter:
A. First  label wording layout (Ex. no distribution information)
B. Second label wording layout (Ex. with distribution information)
C. etc.other variations
search by LABEL
TO SEARCH, PLEASE EITHER SCROLL THE LABEL
LIST BELOW
(AT LEFT) – OR USE THE
SEARCH FIELD BELOW
(AT CENTER).
Scroll to see all labels
Search for a name