DYNAMICS, The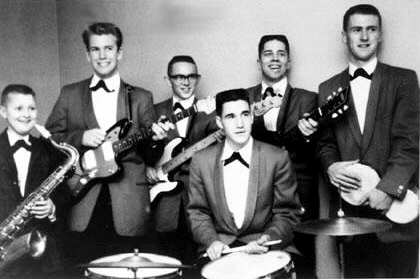 Homebase: Seattle, WA.
Stats: 1959-68
Misc Notes: Nationally, a number of  groups named The Dynamics have recorded on  labels such as Cotillion, Bigtop, Decca,  Liberty and Reprise  to  cite but a few of the most well known. Those groups and their recordings are NOT associated with the Pacific Northwest's Dynamics.
SEE ALSO:
1.) SPRINGFIELD RIFLE, The
2.) SPRINGFIELD FLUTE,  The
3.) AFDEM, JEFF
4.) AFDEM AND THE SPRINGFIELD FLUTE,  JEFF
5.) PLANT 2
6.) PLAY IT AGAIN SAM
Original Members
Tom Larson ~ Vocals
Jerry Strong ~ Vocals
Bob Johnston ~ Vocals
Wally Giffin ~ Guitar
Jeff Afdem ~ Saxophone (d. 2022)
Terry Afdem ~ Keyboards
Pete Borg ~ Bass (1944-2010)
Tracy Townsend ~ Drums
Later Members
Jimmy Hanna ~ Vocals
Randi Green ~ Vocals
Larry Coryell ~ Guitar
Brady Anderson - Guitar/bass
Harry Wilson ~ Guitar
Dave Williams ~ Guitar
Mark Doubleday ~ Trumpet (d. 2004)
Keith Baggerly - Trumpet (2000)
J.C. Reick ~ Keyboards (2000)
Gary Snyder ~ Bass
Jim Manolides ~ Bass
Ron Woods ~ Drums
Larry Smith ~ Drums
"THE DYNAMICS: SEATTLE'S TOP '60s TEEN-R&B BAND (1959-1968)"
by Peter Blecha
IT WAS WAY BACK IN 1964 that the Seattle-based Seafair-Bolo record label released the classic album, The Dynamics with Jimmy Hanna. The music contained on it constituted the 1960s' Northwest teen-R&B in peak form as performed by the premier band of the genre.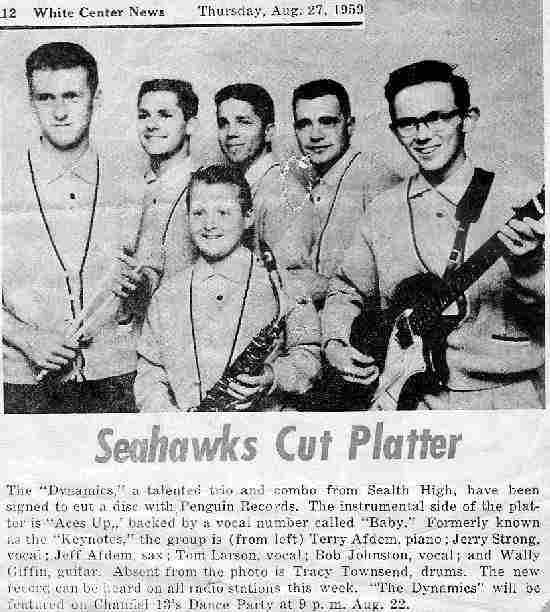 The Dynamics saga began in about 1959 with the release of "Baby" / "Aces Up," a joyfully raw single pairing up two "Kansas City"-type "originals." Both songs featured good gritty sax solos by young Jeff Afdem, in whose living room the recording session took place. The band's leader, Tom Larson, soon approached Tom and Ellen Ogilvy – the operators of Seafair Records – and in 1960 the band's second single, "Onion Salad" was released and enjoyed modest radio airtime.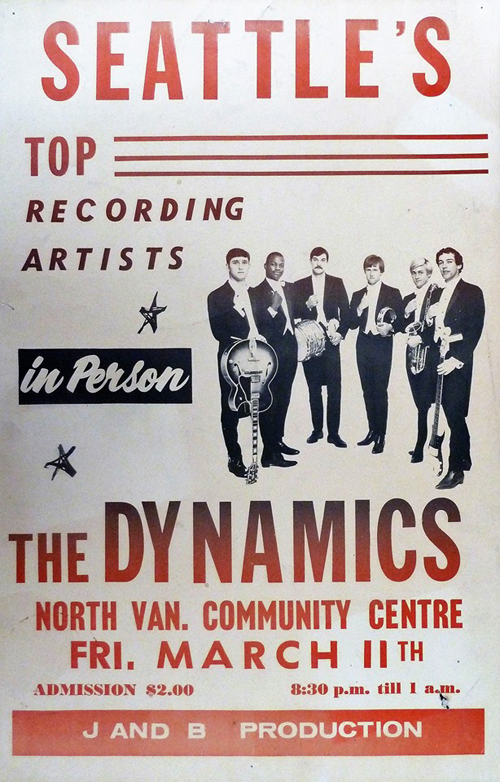 Then in 1961 personnel changes occurred: founding members Terry Afdem (keys), Jeff Afdem, and Pete Borg (bass), regrouped with drummer Ron Woods, and the Ogilvy's singing son, Jimmy "Hanna." Soon Yakima's Checkers lost their guitarist, Larry Coryell, to the band, and then Mark Doubleday (trumpet) became the last to join. The Dynamics' next series of singles (on the subsidiary label, Seafair-Bolo) were excellent: 1962's cover of Dave Lewis' "J.A.J." was so fine it briefly saw national distribution. Then came "Wild Girl," 1963's "Tough Talk," and "Genevieve" (featuring guest organist, Mike Mandel, of the Checkers).
Coryell, of course, eventually split for New York and the rest is jazz history. Harry Wilson left the Casuals to replace him and also excelled in his guitar duties. Both he and Gary Snyder (who took over for Borg) appear on the 1964 album The Dynamics with Jimmy Hanna and the boss singles "Busybody" – and "Leavin' Here" which was briefly distributed nationally by Atlantic Records.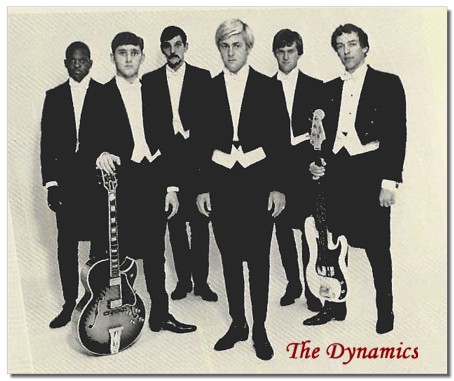 The Dynamics had started out by playing house parties and school dances, but later became mainstays on the teen-dance circuit promoted by KJR radio's kingpin DJ, Pat O'Day. Highlights were the gigs they shared with the Beach Boys, Roy Orbison, Bobby Freeman, Jan and Dean, the Astronauts, and Vancouver B.C. Canada's '60s Invasion modster, Terry "Unless It's You" Black.
Hanna, who had built up quite a reputation with his rich, smooth – almost Bobby Bland-like – vocals, left the band and by 1966 was fronting his own 10-piece "blues big-band." He released several singles through 1967, before taking up studies in San Antonio, Texas, where today he owns a studio and is a music instructor.
The Dynamics forged ahead, signing with Seattle's Jerden Records, and later revamping themselves as the Springfield Rifle. This band became a highly successful performing and recording outfit for several years, scoring airplay with discs including 1967's "Will You Love Me Tomorrow" and 1968's "That's All I Really Need." Alas, that enterprise eventually mutated into the Springfield Flute, a vehicle for Jeff Afdem's saccharine arrangements of tired pop tunes.
Meanwhile, Ron Woods had exited just prior to the Rifle's formation. He headed to Los Angeles to sit in on the last gigs of Seattle's own psychedelic folk-rock tripsters, the Daily Flash. Over the following few years Woods also did stints with the Buddy Miles Express, Pacific Gas & Electric – not to mention session work with Jimi Hendrix, Barry Goldberg, D. J. Rogers and others. Mark Doubleday went on to play with the Electric Flag, The Buddy MIles Express , Janice Joplin and numerous other groups.
Back up in Seattle, Seafair-Bolo Records went into mothballs in 1968. But now the label marks its return with the release of a new Dynamics album: Memory Bank of Early Northwest Sounds. Like the Dynamics' previous LP, this one also includes material cut live at Parkers, along with a couple studio cuts. The nine live tracks were recorded on three separate nights between 1962 and 1965, and therefore features both Coryell (most of side one) and Wilson (side two) and both Borg and Snyder on bass guitar. The stereo master tapes were lovingly mixed by the legendary Northwest audio engineer, Kearney Barton, and the album sounds properly vintage. No, this is not a "Dynamics 1984 Reunion" LP or even a Greatest Hits package. Instead, it is offered as a song-set typical of countless local teen-dances from a long-ago time. In truth, it is a remarkable historical record by a band of remarkable musician's musicians: The Dynamics.
[Note: This is an edited version of an essay that originally appeared in the "Northwest Music Archives" column of Seattle's The Rocket magazine back in January, 1984.]
Text copyright © 1984, 2014 by Peter Blecha.
Memories
"Terry Afdem and I became friends when he was my keyboard teacher in 1964. We hit it off, and in 1965, he started calling me to sit in for him when he couldn't make a gig. This was during the 'heyday' of the Dynamics with Jimmy Hanna. What a group!!! While my tenure with the group was sporadic and short-lived, it did leave an indelible mark on me, my music, my career, and who I am as a person. The confidence this experience instilled in me has served me well throughout my life/career. I know the other bands I played in during this time period (i.e., the Liberty Party, Enchanters, Merrilee Rush, etc.) benefited from my relationship with Terry and my experience playing with the Dynamics. I still think R&B is the best." - Dr. Mike Robbins, November 2005 correspondence with pnwbands.com website [courtesy of webmaster Sam Carlson]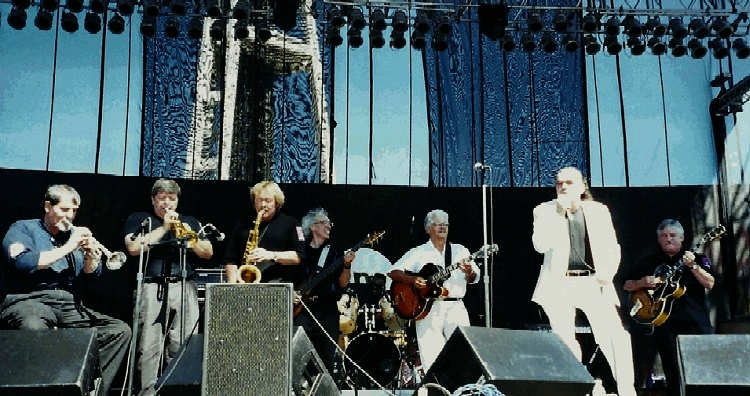 The Dynamics at the July 28, 2000, Grand Opening of Seattle's music museum (The Experience Music Project) - L-R: Mark Doubleday, Keith Baggerly, Jeff Afdem, Pete Borg, Ron Woods, Larry Coryell, Jimmy Hanna, & Harry Wilson (not shown Terry Afdem & J.C. Reick) [photo courtesy of Richard Evans]
Video of the 2000 reunion show SEEN HERE.
search by ARTIST
TO SEARCH, PLEASE EITHER SCROLL THE ARTIST
LIST BELOW
(AT LEFT) – OR USE THE
SEARCH FIELD BELOW
(AT CENTER).
Scroll to see all artists
Search for a name