FRANTICS, The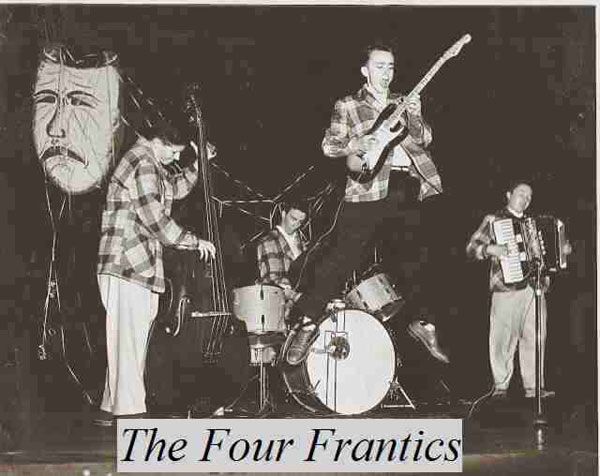 Homebase: Seattle, WA
Stats: 1955-66
Misc Notes:
SEE ALSO:
1.) FOUR PEARLS, The [Dolton 26]
2.) FLEETWOODS with The FRANTICS, The [Dolton #30 - "I Love You So"]
3.) LITTLE BILL with the FRANTICS [Topaz #1303 - "Sweet Cucumber"]
4.) STAN & MIKE [Topaz 31691 / 31692]
5.) GOOD SISTERS, The (Hitt #0001)
6.) PETERSON & THE ACCENTS, RON
7.) THOMAS and THE TRU-SONICS, TRACY
8.) HENRY & THE OLYMPICS, JAMES
9.) MOBY GRAPE
10.) JR. CADILLAC

The Four Frantics:
Ron Petersen ~ Guitar
Chuck Schoning ~ Accordion (d. 2001)
Gary Gerke ~ Piano
Joel Goodman ~ Drums
The Frantics Original Members:
Ron Petersen ~ Guitar
Chuck Schoning ~ Accordion, Keyboards, Sax (d. 2001)
Bob Hosko ~ Sax (d. )
Jimmy Manolides ~ Bass, Vocals (d. 2016)
Joel Goodman ~ Drums
Frantics Later Members:
Joe Valentine ~ (2nd /Drums)
Gene "Geno"  Landis ~ Bass
Dean Tonkin ~ Bass
Don Fulton ~ Drums (d. )
Joe Johansen ~ Guitar (d. 1997)
Jerry Miller ~ Guitar
Don Stevenson ~ Drums
Jon Keliehor ~ Drums
"THE FRANTICS: SEATTLE's TOP TEENAGE '50s BAND"
by Peter Blecha
IN THE EARLY YEARS OF ROCK 'N' ROLL major recording artists often toured through regions of the country alone or with an accompanist, hiring various local bands to perform with them. So it was on February 22, 1959 when Bobby Darin rocked his hits, "Early In The Morning," "Splish Splash," "Queen of the Hop," and "Plain Jane" for a capacity crowd at Parker's Pavilion. His backup band?...Seattle's top teen band, the Frantics.
From all accounts Darin was ecstatic that evening, returning to the stage after his featured set to join the band on backing vocals, a little piano, and even drumming a song or two. Later that night, phoned arrangements were made for an impromptu recording session with Joe Boles, the local audio engineer responsible for "Come
Softly To Me" the then-current breakout hit by Olympia's teen trio, the Fleetwoods – a song that would soar to the nation's #1 spot by March.
The Frantics arrived at the West Seattle neighborhood studio the following morning half-wondering whether the pop star from New York would actually follow-through on the previous evening's late-night talk. But, Darin did arrive and immediately set about arranging, with the band, two brand new songs, each freshly
penned on Olympic Hotel stationary. Three hours later the session was completed, Darin was thrilled and grateful to have gotten great takes on both songs. Each player was paid $90, thanked, and then Darin headed south to complete the final dates on his tour schedule.
Less than two months later the "Dream Lover" / "Bullmoose" single entered the national charts, climbing to the #2 slot, and eventually selling over 3.5 million units. Along the way, however, Darin's corporate overlords back in New York had gotten him to cut the tunes from scratch, but the Frantics could hear little difference from their "Dream Lover" and even chuckled after listening to how the New Yorker players had worked to capture their band's sound on "Bullmoose."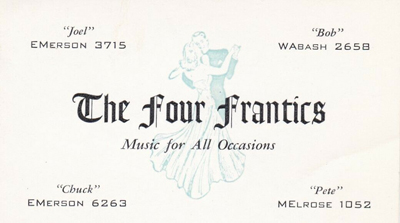 The Frantics' beginnings trace back to Jane Adams Jr. High School, and yes, the proverbial talent show. Billed as the Four Frantics, Ron Peterson (guitar), Chuck Schoning (accordion), and a couple buddies then performed at community dances for the next few years. By October 1957, the combo's lineup had solidified with Peterson, Schoning, Bob Hosko (sax), Joel Goodman (drums), and
Jimmy Manolides (vocals – though he was soon peer-pressured into learning electric bass). The Frantics were one of only three known Seattle rock bands at that time – the other two being from the town's Central District: the Dave Lewis Combo and the Playboys (with Ron Holden).
Based in the North-end, and with all-Caucasian members, the Frantics filled a void and they quickly became a hit on the P.T.A. dance circuit. It was at one early show that the boys were seen by the head of Seattle's Musicians Union AFM #76, Chet Ramage. Miffed that they were performing before a large crowd without being dues-paying union members, he unplugged their amps mid-song and admonished them to come to headquarters and join up. That done, the Frantics soon found an almost unlimited range of gigs to play: theaters, proms, community halls, and television spots. Highlights included gigs where they played support for additional touring stars including Gene Vincent, Jimmy Clanton, and even Fabian.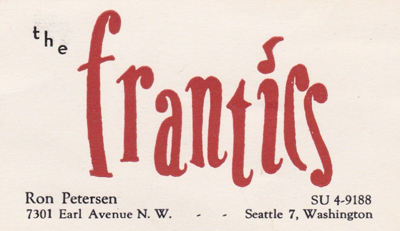 One evening in late-1958, after a rehearsal and apparently on a collective whim, the guys loaded their gear into a couple of cars and drove to the downtown studios of KOL radio. They waved at the DJ, Art Simpson, through a window and then, before they knew it, they were inside the station's small studio recording. That same night Simpson began broadcasting their original instrumental, "Checkerboard." In fact the DJ was impressed enough to send them over to meet Bob Reisdorff, A Seattle record distributor who had just signed a teen vocal trio from Olympia, the Fleetwoods. Within a few months Reisdorff's Dolton Records would score national hits by five different teenage groups from the Northwest.
It was on May 25, 1959, that the Frantics debut single, "Straight Flush" / "Young Blues," hit the national charts (Billboard magazine, #91) and set the standard for most of their subsequent releases by topping the local radio charts at KOL, KJR, and even KING. At this point Don Fulton replaced Goodman, drumming on their second single "Fogcutter" / "Black Sapphire" which hit Billboard (#96) in September.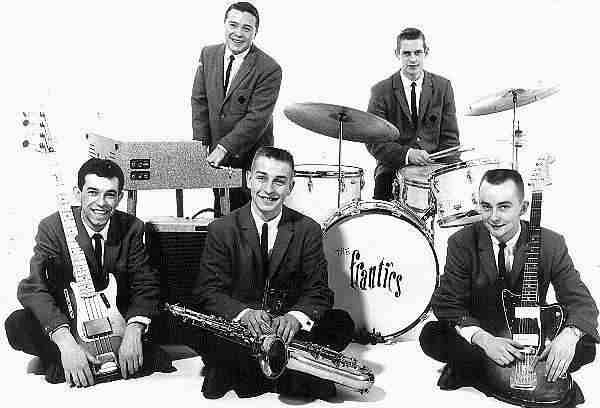 The third single ("Werewolf" / "Checkerboard)" had been intended to score during the upcoming Halloween/Christmas holiday shopping season, but technical issues delayed its release until the New Year. Entering the charts on February 29, 1960, its timing was fated to coincide with the United States Senate Subcommittee new hearings on payola and corruption in the music biz. During these the senators got all wound up investigating the content of songs rather than focusing on more serious aspects of the music industry's Evil Empire. So, artists were attacked for the "gimmicky" or "disturbing" elements of their songs and the radio industry began to get gun-shy about breaking new songs that bore any questionable elements.
"Werewolf" featured creepy Thriller-esque spoken intro and maniacal wolf growls (as provided by audio engineer, Kearney Barton) and gothic pre-spaghetti-western guitar figures. After shooting up Billboard's charts ("with a bullet") for its first two weeks, "Werewolf" mysteriously disappeared. Reisdorff responded immediately by reissuing the song sans its sinister narration or howls -- retitling the thing "No Werewolf." While no longer "gimmicky," it was also no longer fun for the teenage masses and it died a quick death.
The Frantics released total of eleven singles between 1959 and 1962, all of which showed the band's members to be top-notch players, but the latter ones – including "Yankee Doodlin,'" "San Antonio Rose," and even "The Whip" (which featured the skills of famed bullwhip artist, Monty Whiplash), were all clearly attempts at cracking the novelty-instrumental market ala Johnny & the Hurricanes.
In March 1961, when the last of the band's members turned 21, the Frantics were hired at Dave Levy's old jazz club, Dave's Fifth Avenue, becoming the first bona fide rock band to be booked into a Seattle tavern. They played the room for months on end and it seemed that the whole town turned out to dance. Then Manolides jumped ship to join the Dave Lewis Trio who scored an extended gig at Dave's.
The following year, when the 1962 Seattle World's Fair opened across the street on the new Seattle Center campus in April, the Frantics retuned to Dave's, playing to SRO audiences all through the following autumn. They also cut two Fair-themed singles: the "Meet Me In Seattle Twist," and "The Gayway Twist."
Time went by and the Frantics experienced additional personnel changes – including bringing aboard a new drummer, Jon Keliehor, who had been in the official World's Fair Band, and then a new guitarist from Tacoma, Jerry Miller. The band was getting some good job offers in California and on one fateful trip southward, Keliehor was hurt in a car-wreck – and Don Stevenson (formerly with the Continentals) was brought aboard.
While gigging south of San Francisco the band was now coming into increasing contact with the blossoming Flower Power counterculture. After cutting one final single in 1966  for the Action label, there was a falling out over psychedelic influences on their music – and the renaming of band  Luminous Marsh Gas may have been the final straw. More changes happened: Hosko returned to Seattle, Bob Mosely (bass) was added, and Schoning was axed. Finally, when L.A. folkie Peter Lewis (guitar) and the Jefferson Airplane's original drummer, Skip Spence, both connected the band changed names one more time. Moby Grape first played the Fillmore Auditorium in November 1966 and their mind-blowing single, "Omaha," hit the charts in July 1967.
Meanwhile, Keliehor healed and joined a new psychedelic folk-rock band from Seattle's University District, the Daily Flash, who enjoyed their own successes locally and in California. Then Schoning resurfaced a bit later, filling an opening in Haight Ashbury's beloved band, Quicksilver Messenger Service. Finally, in 1970 Manolides and Hosko helped found the Northwest's ultimate goodtimes/oldies band, Jr. Cadillac, who went on to rule the region's tavern rock scene for a quarter century.
[Note: This is an edited version of an essay that originally appeared in the "Northwest Music Archives" column of Seattle's The Rocket magazine back in March, 1984.]
Text copyright © 1984, 2014 by Peter Blecha.
Memories: "I'm Joel Goodman, the second drummer (1954-58) with the Frantics. I think that I was asked to join the Frantics because I had a full set of drums and a car that could carry everyone and everything all at once. The practice sessions were held in my families 'rec room' with all the doors wide open. I remember my dad being very proud of our music and the guys in the band. We had a small organ that my dad turned over to Chuck (Schoning) to give us a little fuller sound. We then bought a 'Family Car' from one of the funeral homes and it was our mode of transportation for all of us and the instruments for awhile. I remember getting all of the different outfits like the plaid jackets and the white 'Overhauls.' I had a heck of a time getting the same type of shoe as I was a 13-14 and everyone else was a 8-9. I tried singing once but was asked not to try again. We made our first recording in a basement recording studio in West Seattle. We were introduced to the Fleetwoods there and we made their first cut of 'Come Softly To Me' at that time (they then went to California for the recording that we all know and love). Bob Hosko joined us after we heard him doing solos,  jamming in the lunch room at Lincoln High School and this brought a 'raunchy' sound to our music. As Joe Valentine says....'The rest is history - ancient history... but what a good time and all of the memories for all of us.'" - Joel Goodman, October 2003 correspondence with pnwbands.com website [courtesy of webmaster Sam Carlson]
search by ARTIST
TO SEARCH, PLEASE EITHER SCROLL THE ARTIST
LIST BELOW
(AT LEFT) – OR USE THE
SEARCH FIELD BELOW
(AT CENTER).
Scroll to see all artists
Search for a name