KINGSMEN [II], The
Homebase: Portland, OR.
Stats: 1957-present
Misc Notes:
ORIGINAL MEMBERS:
Jack Ely (vocals / guitar) [b. 1943 - d. 2015]
Mike Mitchell (guitar)
Bob Nordby (bass)
Don Gallucci (keyboards)
Lynn Easton (drums) [d.2020]
SECOND LINEUP (December 1963):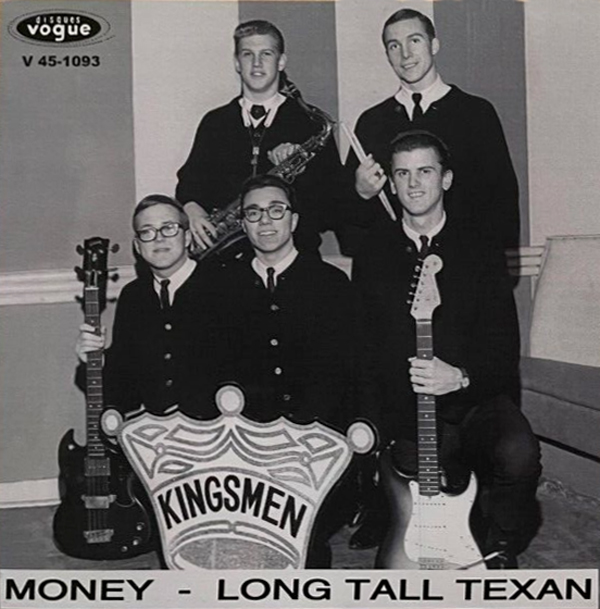 Lynn Easton (vocals / sax)
Mike Mitchell (guitar)
Don Gallucci (keyboards)
Norm Sundholm (bass)
Gary Abbott (drums) [d. 2015]
THIRD LINEUP (January 1964...):
Lynn Easton (vocals / sax)
Mike Mitchell (guitar)
Norm Sundholm (bass)
Barry Curtis (keyboards)
Dick Peterson (drums)
LATER MEMBERS:
Jeff Beals ~ Saxophone (d. )
Pete Borg ~ Bass (d. )
Freddy Dennis ~ Bass
Steve Friedson ~ Keyboards
Kerry Magness ~ Bass
Todd McPherson ~ Bass
Dennis Mitchell ~ Guitar
Kim Nicklaus ~ Keyboards
Andy Parypa ~ Bass
Steve Peterson ~ Drums
J.C. Reick ~ Keyboards (d. )
Turley Richards ~ Guitar
Marc Willett ~ Bass
"THE KINGSMEN: PORTLAND's ROCK ROYALTY"
by Peter Blecha
"LOUIE, LOUIE" BY THE KINGSMEN – the undisputed garage-rock hit of all time – was still charting nationwide that first week in February 1964 when the Beatles landed at Kennedy Airport. Although the Beatles were spearheading a major British Invasion of America's radio airwaves, the Kingsmen successfully held their own. Between 1963 and 1967, at least eleven of the Kingsmen's singles and five of their LPs scaled Billboard magazine's charts. These discs were a non-stop series of some of the loudest and rawest rockin' radio hits ever. The Kingsmen emerged from their Portland, Oregon garage in 1959, around the same time that the world was first being introduced to the developing Northwest Rock Sound.  The Seattle/Tacoma based combos: the Wailers, the Frantics, Little Bill and the Bluenotes, and the Ventures each scored on the national charts with their early releases.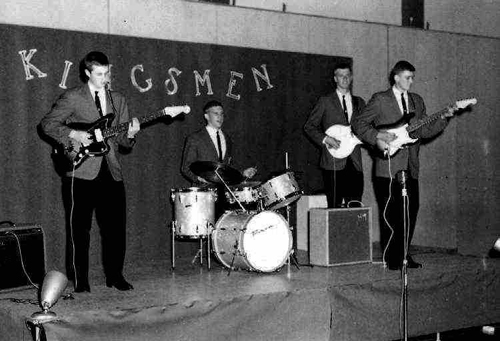 The Kingsmen originally formed as a 4-piece unit: Jack Ely (vocals / guitar); Mike Mitchell (guitar); Bob Nordby (bass); and Lynn Easton (drums). They performed popular standards, Top-40 tunes, and their favorite raunchy R&B songs at local supermarket grand openings and school sock-hops.In the fall of '62, the Kingsmen lured Don Gallucci (keyboards) away from another Portland band, the Royal Notes. Just prior to this Ely acquired a copy of "Louie, Louie" by the Wailers (Etiquette #1) – a cover of Richard Berry's 1956 underground R&B hit. This version featured the Wailers' raving vocalist, Rockin' Robin Roberts (along with his patented "yeah, yeah, yeah, yeah's…"), and it raced up the charts in 1961 on KJR, Seattle's then-mighty Top-40 / rock 'n' roll radio station. That achievement and the disc's five-digit sales figures offered simple statistical evidence of the Pacific Northwest region's undying fondness for the song. It also bolstered the local tradition for rockin' combos to feature the song nightly at dances.
The Kingsmen adopted it and began employing the song as an extended showstopper finale. When a local disc jockey, Ken Chase, hired the Kingsmen to open his new teen club, The Chase, he noticed the young crowd's wild reaction to "Louie, Louie," he booked the band into a downtown Portland studio. "Louie, Louie, and an original instrumental number, "Haunted House," were quickly cut in March, 1963, for thirty-eight legendary dollars. When DJs at Portland station KISN began broadcasting this "Louie, Louie," Seattle record mogul, Jerry Dennon, took notice, signed the boys up, and released their debut single on his fledgling Jerden Records (#712) label.
Such was the early '60s Northwest teen-dance scene, that many of the working combos a shared a core canon of the same songs in their sets. So, it made perfect sense for a crosstown rival band, Paul Revere & the Raiders, to enter that very same studio, that very same week, in order to cut their own version of "Louie, Louie." These two bands battled it out on Portland's radio charts all through that summer.
The Kingsmen's chaotic version with its manic lead guitar solo, insane cymbal crashes, generally slurred and unintelligible lyrics – as well as that famous fluffed third verse – rose to about the #20 slot. The Raiders' good, though comparatively tame, sax-based rendition (Sande #101) went on to get them signed to the big-time Columbia Records (#4 - 42814) talent roster.  Easton, meanwhile, had been devising other schemes: he had secretly registered himself as the legal owner of the Kingsmen's name – and he had also taken up the saxophone. Finally at a rehearsal session in late-August, he dropped his bombshell: Easton would now be taking over as their frontman/vocalist. Needless-to-say, the guys were stunned. It was, however, a bloodless coup as both Ely and Nordby opted to quit and Gary Abbott (drums) and Norm Sundholm (bass) were recruited from other local bands.
Only weeks later, Easton was phoned by some college students in the deep south who were curious about the garbled lyrics within "Louie, Louie" and they wondered whether it was true that they could be deciphered if the 45 rpm disc was slowed down to 33 1/3 rpm. The Kingsmen were initially humored by these outlandish rumors, but before long the news networks were filing reports from New Orleans, Florida, Michigan, and elsewhere about an American public nearly hysterical over the possible dangers of this record. When Boston radio DJ, Bernie "Woo Woo" Ginsburg, at WMEX caught wind that the Governor of Illinois was preparing to ban the song, he immediately set the tune into heavy rotation on his show. Ginsburg apparently reasoned that it might not appear proper if the song were to be outlawed in another area before staid ol' Boston could have its chance.
That's when the New York-based R&B label, Wand Records, jumped in, reissued the disc, and 21,000 copies were sold that first week in Boston alone. As "Louie, Louie" began to saturate every radio market, a frenzy began building, the rumor mills were working overtime, and ugly record-burning incidents reportedly occurred.  A congressional subcommittee took an interest, the FBI paid the band a visit, and both Ely and  (the song's composer Richard) Berry ended up being summoned by the FCC to make statements regarding the song's lyrical content. "Louie, Louie" entered the Billboard charts in November '63, charted for sixteen weeks (resting in the nation's #1 position for two solid weeks), and would go on to sell probably 10 million copies worldwide.
The Kingsmen embarked in late-December on a whirlwind three-week tour for the powerful William Morris Agency. Soon after returning home, Abbott was replaced by Dick Peterson and Barry Curtis joined because Gallucci was still stuck in high school and wasn't free to tour. By the spring of '64 various concert promoters were urging Ely to form his own Kingsmen because Easton's crew was experiencing a bit of trouble on the road: people had begun to question whether Easton's was the same voice as the hit record. Jack Ely and his brand-new Kingsmen began booking shows but eventually the two groups would end up facing off in court. A settlement was reached: Ely would desist from making further bookings as the "Kingsmen," but any subsequent pressings of "Louie, Louie" would have to specifically credit "Jack Ely" as the vocalist – and Easton was barred from lip-syncing to Ely's original vocals during TV appearances.
In March 1964 the Kingsmen's second single, a cover of Barrett Strong's 1960 Top-40 smash, "Money," (Wand #150) was released, and it charted for 11 weeks. The Kingsmen began four years of endless concerts, road tours, dances, and appearances on all of the teen-set's TV shows: Hullaballoo, Shivaree, Shebang, Where The Action Is, and others.  They also performed the title track and tough rocker, "Give Her Lovin',"(Wand #189) in what was perhaps the zaniest of Annette's surfin' flicks, How To Stuff A Wild Bikini.(Wand #671 Soundtrack).
In January 1965 the Kingsmen's fifth single, "The Jolly Green Giant" (Wand #172) – a novelty tune based on a well-known frozen vegetable company's popular animated trademark character – sparked another mild controversy. "The Jolly Green Giant," boosted by all the attending "bad" publicity, charted for 12 weeks, peaked at the nation's #4 slot, and became the Kingsmen's second best-seller. That disc's flipside, "Long Green," became a regional standard that was covered by numerous Northwest bands and, in fact, Jimmy "Sugar Shack" Gilmer & the Fireballs even scored a minor national hit version of it later in 1969.
Don & the Goodtimes – Gallucci's newly formed band – burst out in '65 with a scorching original, "Little Sally Tease,"(Jerden #762/Dunhill #4008) a song that the Kingsmen promptly covered with a full-blown studio effort (Wand #1127). "Little Latin Lupe Lu" (Wand #157 1964), "Death Of An Angel" (Wand #164 1964), one of the band's contributions to the dance-craze-of-the-week fad, "The Climb (Wand #183 1965), and other hits kept the Kingsmen charting regularly through November 1967.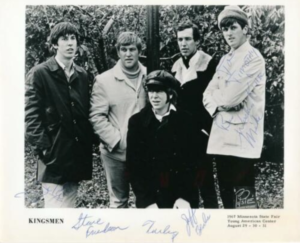 The Kingsmen experienced further personnel changes, brought in new producers, and booked recording sessions in Hollywood. By this time, the era's psychedelic influences began to shade some of their recordings: "Just Before The Break Of Day" (Wand #1164), "I Guess I Was Dreaming"  (Wand # 1180). These final Wand label releases were, perhaps, just a little too experimental and did not met with the same massive commercial success that the band's previous teen-R&B outings had. The Kingsmen finally abdicated their throne in 1968 and went into a self-imposed musical exile.
Meanwhile, "Louie, Louie" – the song that couldn't be stopped – had made a remarkable re-entry onto the Billboard charts for a couple of weeks back in mid-1966, and then Jack Ely & the Courtmen, now signed to New York's Bang Records, released spirited rewrites such as "Louie, Louie '66" (Bang - 520) and "Love That Louie." (RCA 47 - 8452) The phenomenal impact of the Kingsmen's classic cut remained undiminished and its legend grew.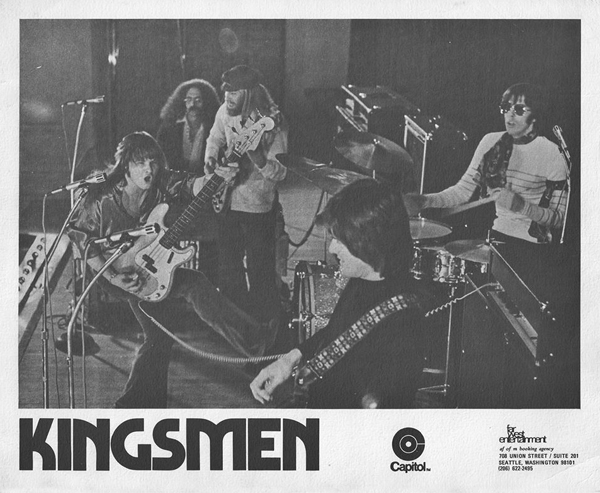 In the 1978 movie Animal House, the late John Belushi gave a memorable performance leading a debauched frat-house party in a hilarious slurred sing-a-long with the Kingsmen's record. Then, in 1979, the British mod group, the Who, also paid tribute by including the Kingsmen's "Louie, Louie" in the soundtrack to their film, Quadrophenia (MCA2 - 10004 / Polydor PD - 2 - 6235).
Today, the Kingsmen are back at what they have long been renowned for: raucous live performances at dances throughout the Greater Northwest and beyond. The band's recent "Louie, Louie" video has been airing on MTV, and there is currently a grassroots movement underway to have "Louie, Louie" declared the official Washington State Song.
The Kingsmen – a teen combo that began their reign banging out truly basic three-chord tunes steeped in the strong R&B elements of the Pacific Northwest's school of rock 'n' roll – may for all eternity be pegged as the prime example of that wonderfully crude, supremely sloppy, sixties garage band sound that many of us still hold near and dear.
And that's one hell of a high honor.
[NOTE: This is a slightly edited version of the original liner notes to Rhino Records' The Best of The Kingsmen, Featuring "Louie Louie" 1988 LP (RNLP 126) and 1991 CD [Rhino 2 70745]. It was named as one of the "25 Best Liner Notes" ever by Dave Marsh in his 1994 book, The New Book of Rock Lists. In addition, Bruce Eder wrote in the All Music Guide that: "The Best Of The Kingsmen was the album that helped restore the group to modern record collections...and Peter Blecha's essay is still the definitive account of the band's history." Thanks guys!]
Text copyright 1988, 1991, 2014, Peter Blecha
search by ARTIST
TO SEARCH, PLEASE EITHER SCROLL THE ARTIST
LIST BELOW
(AT LEFT) – OR USE THE
SEARCH FIELD BELOW
(AT CENTER).
Scroll to see all artists
Search for a name