Morrison Music Company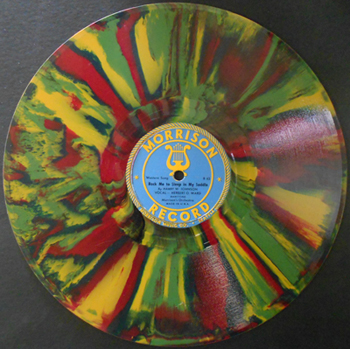 "THE MORRISON MUSIC COMPANY"
by Peter Blecha [Courtesy & copyright, 2005, HistoryLink.org]
At the dawn of the Roaring Twenties, a Pacific Northwest couple -- Howell Oakdeane "Morrie" Morrison (1888-1984) and his wife, Alice Nadine Morrison (1892-1978) -- launched what became the region's first successful local commercial pop music empire. Fueled by a fortune made off royalties earned from a string of original hit song compositions, the Morrisons' pioneering web of interrelated mom-and-pop businesses would grow to include a dance school, a sheet music publishing company, a vaudeville orchestra, a dancehall chain, a record label, a Seattle-based recording studio (with a record-pressing plant), and even a film production endeavor. [READ MORE....]
NOTES:
On disc labels, company name printed as either Morrison Music Co./Company. or Morrison Records. Herein we have combined the two.
Because Morrison Music Co./Records had their own pressing operation, often - at purchaser's requst -  artists, song titles and  disc numbers were "mixed and matched." As a result, herein, many A-sides and B-sides are listed seperately.
search by LABEL
TO SEARCH, PLEASE EITHER SCROLL THE LABEL
LIST BELOW
(AT LEFT) – OR USE THE
SEARCH FIELD BELOW
(AT CENTER).
Scroll to see all labels
Search for a name